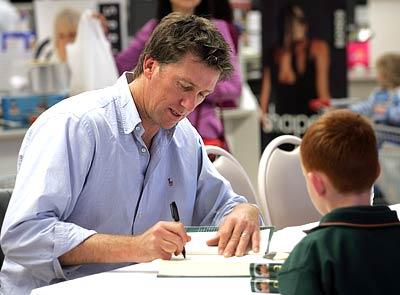 Christmas is coming, which in cricketing terms generally means one thing alone: autobiographies. Because it's the time of year when any player who's just about famous enough – and looking to augment their pension – will serve up their memoirs to a consumer public avidly searching for stocking-fillers.
The psychology behind this is pretty canny. Men are both hard to buy presents for, and not very imaginative at choosing them for others. So if you have a cricket-loving relative in the family, and you spot a former England star's tome while desperately searching in Waterstone's – bingo.
My own family are a case in point. As well as me, both my brothers, and my father too, are interested in the game, and so our collective gift-hunting begins and ends on the cricket shelf of the bookshop. We've probably exchanged more such volumes than either time or sanity have allowed us to read. I have to confess that both my copy of Mark Waugh's autobiography – an odd choice from my dad – and Dickie Bird's second set of memoirs, remain unread to this day.
This year's highest profile cricket book is Graeme Swann's The Breaks Are Off, which has caused minor controversy for its suggestion that Kevin Pietersen wasn't totally convincing as England captain. That's hardly the most astounding claim of all time, but it probably could have waited until both men had retired. Oh, to have been a fly on the wall during the first subsequent tete-a-tete between Swanny and KP.
Writing an autobiography while still playing involves entering dangerous territory, and Andy Flower is said to take a dim view of his charges picking up the pen, for fear of the kind of PR firestorm or dressing room feud which Swann may have triggered. But the inverse risk – when the author is so timid, to avoid upsetting anyone, that the product is unreadably bland – is just as insidious.
Come to think of it, the majority of cricketing autobiographies (as opposed to historical works or independent biographies) are very stodgy and predictable affairs – mired in self-justification, excuse-making, and the same style of banal observation you hear in post-match interviews.
A typical extract might read:
"It was a great knock by Thorpey. Vaughany added some useful runs, and Goughy bowled a handy first spell, but then we lost our way a bit, and to be honest we were disappointed to lose by an innings".
And so on, for the next 250 pages, all the way to the obligatory anecdotes about throwing the coach in the pool or hiding Jack Russell's Weetabix.
There are a few exceptions. Duncan Fletcher's rather sour autobiography may have cost him much public goodwill, and a place on Andrew Flintoff's Christmas card list, but it was interesting, candid, and revelatory. Marcus Trescothick's much praised memoir is a brutally honest account of an agonising ordeal. It would have been easy for him to gloss over the worst of his experiences, but instead he lays himself bare in intricate and almost humiliating detail. The result is both gripping and poignant.
Surprisingly, one of the freshest and frankest cricket books I've read in recent years is, of all people, Ian Botham's. I fully expected the pompous old bore to spend the entire volume self-aggrandising, patronising his peers, and blaming away all his mishaps.  In reality, he came across as remarkably self-aware, and contrite about his arrogance and selfishness. Even his extra-marital affair is dealt with quite humbly. Botham must have hired a very perceptive and persuasive ghost-writer.
My favourite cricketing autobiography is probably Mike Atherton's Opening Up. As you might expect, he writes with clarity and elegance, but its supreme virtue is his pithily accurate appraisal of his strengths and weaknesses as both player and captain. False modesty, vanity, and wishful thinking are the traps awaiting any sportsman when required to describe their abilities; he deftly avoids all three. The book also provides a revealing insight into the travails – arcane by today's standards – of the 1990s England set-up, and Atherton's fractious relationship with Ray Illingworth.
We'd love to hear your own thoughts on everything to do with cricketers' autobiographies. Which are your personal favourites and turkeys, and which would you love to see in your Christmas stocking this year? And of books not yet written, whose story would you most like to see in print?
Maxie Allen