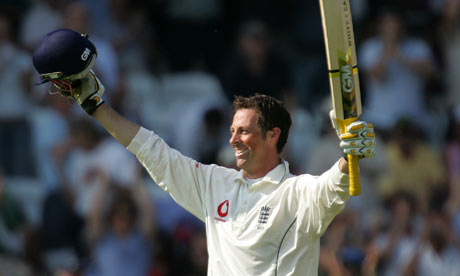 In a parallel universe, you and I are billionaires who own an IPL franchise. In another parallel universe, Marcus Trescothick didn't develop a stress related illness and he's still playing for England – racking up test hundreds, and singlehandedly leading a renaissance in our ODI fortunes.
In this latter universe, Alastair Cook is a young whippersnapper who can't get a game for England – despite his strong 'I play for Essex' credentials (the ones that got Ravi Bopara selected).* And of course, no Alastair Cook means no double century at Brisbane, and no double century at Edgbaston. Ummmm.
If you think back to the distant realms of 2005, Tresco was ahead of Strauss in the pecking order when Michael Vaughan hung up his half-spikes. Therefore, it seems quite plausible that good old Marcus would be England captain now – and that throws open a whole new avenue of 'what ifs' …
If Trescothick turned out to be a successful captain – and remember, a captain is often only as good as his bowlers – then KP would never have been promoted from the rank and file.
And if KP had never been made England captain, it's quite possible that Peter Moores would still be England coach – doing a very good impression of John Buchanan I imagine i.e. being crap, but keeping his job because his team is rather good.
This obviously opens up another realm of infinite possibilities. If Moores was still around, Andy Flower might still be our batting coach – or perhaps he'd have left to coach South Africa, or even India (in which case maybe Dhoni's boys might have more backbone).
Meanwhile, Graham Gooch would simply be a spokesman for Advanced Hair Hats. I'm not even going to get into the repercussions for Lancashire and Duncan Fletcher.
Furthermore, if Trescothick was still around, what would the England batting line-up look like today? Would Alastair Cook simply be a prolific reserve, or would he have forced his way into the side at number three?
If Cook was still on the sidelines in 2009, and simply the 'next cab of the rank' (© lame cricketing clichés), then Jonathan Trott wouldn't have played at the Oval, he wouldn't have scored that match winning hundred, and Ricky Ponting might not have been the only Australian captain to lose three Ashes series.
The most likely scenario, however, is that Cook would have replaced Strauss at the top of the order when Strauss went through that bad spell a couple of years ago. With Cook stepping in to open alongside Tresco, it's unlikely that Strauss would have won his place back in the side.
The repercussions of this, of course, are as humungous as India's middle-order is ageing: You can't be captain if you aren't in the team.
If Strauss had never been made England captain – and the Strauss/Flower axis had never existed – heaven knows what might have happened in the 2009 and 2010/11 Ashes? Would we even be the world's number one test team today? We might even be fielding five bowlers.
Was Trescothick's decision to retire from international cricket therefore the best thing that ever happened to the England team?
It's quite possible that we would've been even more successful with Trescothick in the team. With another world class batsman strengthening the side and, dare I say it, increasing the team's run rates, we might have won even more test matches. I doubt we'd have lost that series away in the West Indies for example.
My conclusion therefore is as follows: If Marcus Trescothick had never been plagued by the mental demons that robbed us of our finest opening batsman since Graham Gooch, England would either still be the number one test team in the world right now, or quite possibly the worst. Either way, we'd still be here spouting inane twaddle.
James Morgan (with thanks to Chris Hurst)
*We realise that the Chelmsford mafia argument goes belly up as soon as anybody mentions the name 'James Foster'.