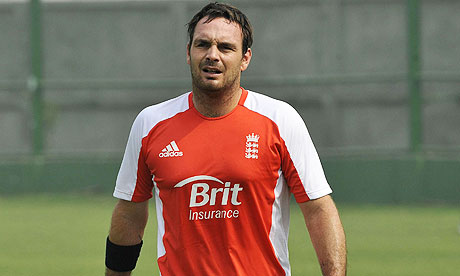 We expected groin strains, broken fingers and side strains, but not this. England announced this morning that Michael Yardy, who has been having a pretty miserable time on the field during the World Cup, is battling depression and has returned home. It's impossible to feel anything but sympathy for the guy. Being away from home for months, playing high pressure cricket in front of thousands of critical eyes, must surely be the worst environment to battle a mental illness. The question is, did England's absurd touring schedule cause the problem or simply exacerbate it? I guess we might find out in the coming days.
As captain of Sussex, Yardy is a strong character. He's been quite brave admitting the exact nature of his problems. In the past, players would have hidden behind imaginary injuries – even Marcus Trescothick, whose high profile battle with a mental illness highlighted the strain placed on professional cricketers, described his condition as 'stress related', an ambiguous and threrefore more innocuous term than outright 'depression'.
The official line is that Yardy wished to reveal the precise nature of his problem because he wanted to be open and honest – a commendable attitude – although it's also possible that he wanted fans to know why he hasn't been performing well on the field in recent weeks. Either way, we wish him well. Mental illnesses are often more difficult to overcome than physical sickness and injuries – as anybody who has read the autobiographies of Marcus Trescothick and Graham Thorpe will know.
Thus far the physical effects of England's gruelling winter schedule have been well documented. In fact, only yesterday yet another bowler, Tim Bresnan, was having a scan on a calf injury (thankfully he got the all clear). However, what Yardy's plight highlights is the mental strain of being an international cricketer. The perks are obviously fame and, to a certain extent, fortune. However, the negatives are also numerous. It can be hard to sustain a marriage, just ask Graham Thorpe, homesickness can become an issue, just ask Steve Harmison, and I'm sure Jimmy Anderson must be worried that his baby girl won't recognise him when he finally gets home. It must be tough.
Fortunately, there are still plenty of cricketers willing to take the rough with the smooth, but would you personally want to be an international cricketer – even if you were good enough? I'm not so sure I would.
James Morgan