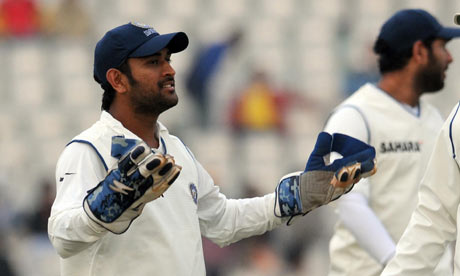 Allan Donald today claimed that England deserve to recognised as the best test team in the world; he therefore joined the hundreds of cricket pundits and armchair fans waxing lyrical about England's victory at Lord's. It's one big love-in at the moment. If England had a run for every pat on the back they've had since Monday afternoon, they'd already have enough to win the Trent Bridge Test by an innings. But are we getting ahead of ourselves? There's evidence to suggest that we are.
England won the first test by 197 runs. It sounds like a reasonably comprehensive margin on paper, but India were hampered by a number of problems. Were these hindrances worth almost two hundred runs? You don't have to be a Sachin groupie to see that they probably were.
After the injury to Zaheer Khan (their best bowler and only seamer with experience of English conditions) India were reduced to three bowlers – yet they still had England's batsmen panicking on Sunday afternoon. It took what I consider to be one of the great innings from Matt Prior to save the day.
We all know Zaheer is a class act, but Sharma and Kumar also looked dangerous at times – the latter was a revelation in my book. When they're all fit and firing, they will be a potent unit. As for Harbhajan, surely he can't bowl as badly again?
It's also hard to ignore the Virender Sehwag factor. Later in the series, India will welcome back the most destructive opening batsman in world cricket. If Sehwag had been strutting his stuff at Lord's, Strauss probably would have declared later – who knows, India might have scored more runs too. The result was therefore clearly influenced by the absence of one of Asia's great batsmen.
The Indian second innings was disrupted by a variety of factors – none of which are likely to happen again. The chances of Tendulkar getting ill, and Gambhir getting whacked on the elbow, were about as slim as a Bollywood beauty queen, yet they coincided catastrophically for India – and all very conveniently for England.
Would a batting order of Sehwag, Gambhir, Dravid, Tendulkar, and Laxman – easily the strongest line-up in world cricket – have folded so meekly if they'd batted in their normal positions? Somehow I doubt it.
After the match, the cool as a pickled cucumber Indian captain, MS Dhoni, wasn't too downbeat. He knew that bad luck had played its part in India's defeat. Imagine if England have been reduced to three bowlers instead? There's no doubt the result would have been different. Indeed, the five-bowler brigade would have been walking around with chests puffed out like Darren Gough after taking a hat-trick.
Finally, to say that India were undercooked was an understatement – they had hardly touched the pan. The tourists have a reputation for starting series slowly, and even Andrew Strauss expects them to improve as the series progresses.
It's extremely difficult for any touring team to compete when they aren't fully prepared. Remember England's problems under Duncan Fletcher – the thirteen-a-side warm-up matches and humiliating defeats in the first test? England have learned this lesson, but India have not. It's not the Indian team's fault, it's their blasted administrators.
It's also important to remember that we've only played one test out of four. All things being equal, we'll know who the better side is by the end of the series – but only then. All things were certainly not even at Lord's. Let's leave the champagne on ice for now.
James Morgan