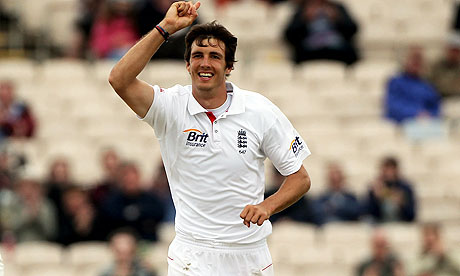 As hell hasn't frozen over as yet, we can all assume that England are going to stick with the four bowler policy at Edgbaston. That means a recall for Ravi Bopara – who is set to bat at number six (one place above a batsman twice as good as him).
Consequently, the following debate is largely hypothetical. But what's the harm in that? It's irrelevant theories and idle conjecture that make the cricketing blogosphere go round.
The focus of this discussion is simple – should Bopara play in the third test, or should Steve Finn get another chance?
It's a straight choice between polar opposites: the tall bowler who seems to get dropped no matter how many wickets he takes, and the short-arsed batsman who seems to get picked no matter how many runs he doesn't score.
I imagine you've read all the debates you can take about whether England should pick five bowlers or four in recent times, but we've got a slightly different angle – one that turns an argument that the four-bowler lobby use all the time on its head.
'I'd be all for five bowlers if the fifth guy actually added something to the team, rather than being a clone of the others', and 'if four bowlers can't do the job, why should five?'. Bet you've heard those arguments before. You might have even said them yourself.
The problem with these arguments is that they don't apply anymore. They were concocted eighteen months ago when we had quality batsmen coming out of our ears, and the fifth bowler was likely to be Liam Plunkett.
These days the boot's on the other foot. The fifth bowler would be one of Bresnan/Tremlett, Finn, Onions, Shahzad or Panesar. The sixth batsmen is, err, Ravi Bopara – a talented player, yes, but one I'll remain sceptical about until he starts scoring runs under pressure (including Lions matches, which are effectively trial games).
So who should get the nod at Edgbaston, and who will get the nod? Unfortunately they're two totally separate questions. Finn is a quality test bowler and a proven wicket-taker. The likes of Michael Holding, who let's face it knows a thing or two about fast bowlers, reckons he is desperately unlucky not to be in the side.
On the other hand we have Bopara, a guy that makes everyone nervous. Shane Warne, a shrewd judge of a player's ticker, doesn't think Ravi has got the character to succeed in test cricket.
Fortunately for Bopara though, the guys that supposedly know him best are England's two batting gurus (Flower and Gooch) who know him well from their Essex days. Are they too close to their protégé to make a objective judgement? We'll see.
England have had so much success with four bowlers that it would seem silly to change the balance now. However, test cricket is also about playing to your strengths …
If your yellow Lamborghini breaks down, and there are two cabs waiting at the rank, it's better to choose the Red Ferrari rather than the Yellow Robin Reliant – no matter how much you find yellow reassuring.
James Morgan