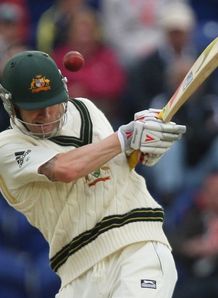 Yesterday was another bad day in what has been a horrible year for Michael Clarke. Not long ago, 'Pup' was the golden boy of Australian cricket. As Ricky Ponting's form declined, Clarke was not only captain elect of the world's number one test team, he was probably the Aussies' best batsman too.
Life was good. Clarke even had the world's most glamorous (or drop dead goregous) cricket WAG: the model Lara Bingle – pictured above. We apologise to our female readers for publishing such a gratuitous photo. We'll even things up next week by giving you a sneak preview of Merv Hughes' naked photoshoot for Australia's Women's Weekly.
Things haven't gone too well for Clarke since his split with Bingle. Half the Aussie team didn't want him to be captain at the SCG, and according to a local poll, 92% of the Australian cricket watching fraternity didn't want him either.
It doesn't help that he can't buy a run at the moment. His weakness against the short ball seems to have effectived his whole game. Whereas he used to be a stylish dasher, he now looks hesitant and rather fearful. He also can't resist the temptation to grope at balls he should be leaving –  a sure sign of nerves.
Clarke's debut as Australian skipper therefore couldn't have come at a worse time. A captain needs to score runs to earn the respect of his teammates and become credible in the eyes of the public. Neither looks likely at the moment.
Timing has always been a problem for Clarke. Things just don't seem to go his way at crucial times. His split with Bingle came just a few weeks before he led Australia into the T20 World Cup. He often seemed distracted during the tournament and struggled to fire with the bat. Some observers, including Ian Chappell, doubted whether he merited a place in the side.
Clarke has also aquired a habit associated with England batsmen of the early nineties. He gets out at the worst possible times. He has been dismissed in the last over of the day three times. Two of these were at key moments in the Ashes – in 2005 when he was bowled by Steve Harmison's slower ball at Edgbaston, and recently at Adelaide, when Kevin Pietersen had him caught at short leg.
All these unfortunate incidents convince England fans that Clarke has never been world class. A good test batsman? Undoubtedly. But a great one? Not on your nelly. It will be interesting to see where his career goes from here.
If Australia can turn the match around and win this fifth test, then the public might get behind their new skipper; who knows, Ricky Ponting may never return. But if England go on to win the series, Clarke may never get another opportunity.
The one thing in Australia's favour is that England will have to bat last on a pitch expected to spin. Who knows, this may yet prove decisive. However, the way things have gone for Clarke in the last twelve months, I wouldn't bet on it. In 2010, Pup has been England's bitch.
James Morgan