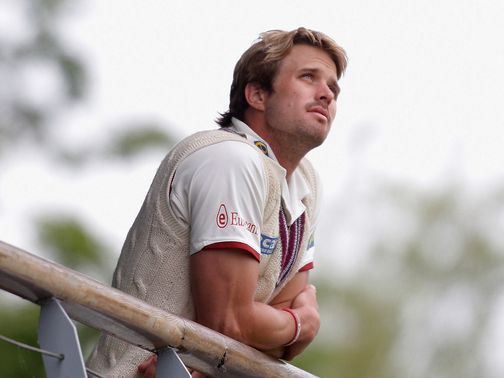 'Hmmm I must remember to pack my Lonely Planet Guide': Nick Compton will have lots of spare time on his hands if KP goes to India
Will Kevin Pietersen play in the test series against India? That's what everyone's talking about; that and Australia's pathetic display in the semi finals of the T20 of course (tee hee).
The logic seems to be "KP's got a central contract now, so he must be picked – otherwise the ECB are paying him for nothing". However, it's not quite that simple. When is it ever?
When the selectors named the squad for India, the board told Geoff Miller that KP wasn't available; therefore they packed the touring party was batting hopefuls: all three of Eoin Morgan, Nick Compton and Joe Root were selected – not to mention Jonny Bairstow (who probably won't play either if Prior bats at six and Samit Patel at seven).
The issue therefore becomes this: if KP is recalled for the test series, we'll have three spare batsmen carrying drinks. I just can't see this happening. Can you?
The team for the first test is quite likely to be Cook, Root, Trott, Pietersen, Bell, Prior, Patel, Broad, Swann, Anderson, Finn. Even if we stick to the six batsman philosophy (with Bairstow coming into the side) that will still leave Morgan and Compton twiddling their thumbs.
This is why, in my opinion, KP probably won't play in the test matches; even though he has a central contract now and everyone knows we're likely to be demolished (rather than just soundly beaten) without him. Carrying around three spare batsmen would be a ridiculous situation.
Of course, an alternative would be to ask one (or possibly two) of the reserve batters to sit out the tour. But this would seem incredibly unfair. Furthermore, it would leave the ECB with even more egg on their face (soon they'll have enough for twenty omelettes). And we all know that the ECB's main priority in any situation is to look good – whatever the cost to supporters or the team.
So once again it looks like a total lack of foresight is going to cost us dear. At the time the initial squad was picked, did it not occur to the selectors and the board that KP might come back – and that they'd be in a bit of a bind if he did?
Surely it would have been more sensible to pick a smaller squad. Then KP could have been added seamlessly. And if the Pietersen dispute was still ongoing, and the management felt an extra batsman was really necessary (which is debateable anyway) one could have been plucked from the performance squad with ease.
Why is it that English cricket is incapable of looking ahead? Why aren't all contingencies anticipated? It's no wonder we're no longer the number one test team in the world.
James Morgan