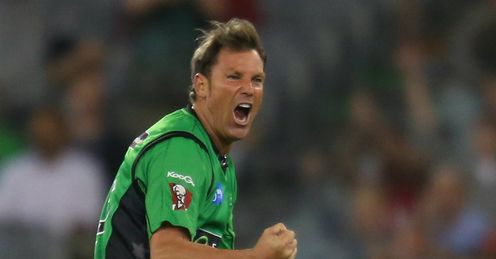 Given all the non-plastic surgery, we weren't quite sure whether the bloke playing for Melbourne Stars in the Big Bash was actually Shane Warne or not. Now we know. After Marlon Samuels was caught pulling Hussey's shirt earlier in the day, thus preventing the batsman from taking a second run, bad feeling flowed as copiously as naff Aussie lager in the stands. Warney couldn't resist having a pop at the cheating (is that too strong a word?) West Indian when bowling to him later – the profanities were all too clear for sensitive Aussie ears to hear – and later threw the ball at Samuels when fielding. The latter incident led Samuels to hurl his bat in Warne's direction. Toys were already being thrown left, right and centre, so why not a piece of willow?!
Check out the amazing scenes here Warne versus Samuels
The incident has already been described as one of cricket's most shameful incidents. We've got a slightly different view. It's T20. It's entertainment for heavens sake. Let's not blow it out of proportion. Both players should be fined but let's not go overboard. Besides, it was well funny.
James Morgan