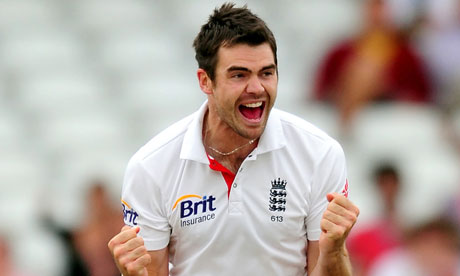 Twenty five erratic overs, three miserable maidens, 108 runs conceded and just the one wicket. Those were Jimmy Anderson's match figures the last time England played a test at Adelaide. The one wicket was about as worthless as it gets too: it was Glenn McGrath.
This time, however, it's all very different. Indeed, James Anderson the cricketer is very different – both the bowler and the man. He's now the undisputed leader of England's attack and the Aussie pundits are raving about him.
The improvement in Anderson's bowling is remarkable. Few people expected him to be as effective in Australia as he was in England during the summer. Before this tour, his record in overseas tests was poor – and nobody expected him to make the Kookaburra ball talk.
How wrong they were. How wrong WE were. In our build up to the Ashes series, we scoffed at Jimmy's ranking as the fourth best bowler in the world. I have to admit, I fully expected him to struggle. I also suspected that his head might drop and his temperament might let him down. Wrong again.
It is still early in the series, so perhaps we shouldn't get carried away, but thus far Jimmy has been on top of his game. His body language is unrecognisable from the rather forlorn figure he cut in 2006. The haunted look in his eyes has also gone. Instead he's in the batsman's face – and he likes a good chirp more than your average canary yellow.
If Jimmy sustains the level of performance we witnessed at Brisbane and now Adelaide, he'll fully justify his tag as one of the world's best bowlers. He looks comfortable with his action, he's found a great rhythm, and judging by his aggressive demeanour, his finally found his mojo too.
It all came together nicely for Anderson on day one. The result? Nineteen miserly overs, four impressive maidens, just fifty one runs conceded, and four priceless wickets. The progress he's made since 2006 is amazing.
James Morgan