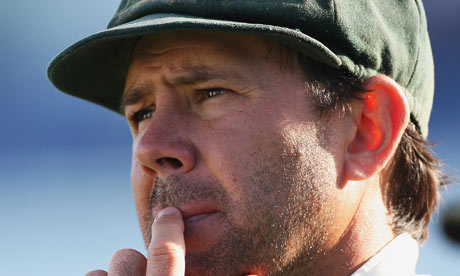 Who are we going to boo at now?
Ricky Ponting, the pantomime villain uber alles, has finally hung up his gloves and retired from international cricket. After years of decline, no longer will he rage against the dying of the light.
It's hard to remember a time before he was part of our cricketing lives. For Ashes series after Ashes series, there he was – snarling, and chewing gum, as he grew from baby faced larrikin to the gnarled and wizened old pro of today.
It's poignant on a personal note. Punter is four days older than me, and his departure marks the closing of a chapter. With the exception of Sachin Tendulkar, I am now older than every test cricketer in the world. When you grow up in awe of cricketers' mystique and worldliness, it's weird to think they are now all younger than me.
Ponting has richly entertained us over the last few years. As the man we loved to hate, how we rejoiced in booing him to the crease, what raptures were evinced by the capture of his wicket.
In all of cricket, there has never been an exclamation to gladden an Englishman's soul as powerful as "Ponting's out!". Even as his powers waned, his was always the wicket we most craved, regardless that it became an increasingly easy one to snare (his retirement probably leaves Australia stronger).
In the 2010/11 Ashes, Paul Collingwood twice dismissed him with wonder catches – to universal rapture across these shores. And when substitute fielder Gary Pratt ran out Ponting at Trent Bridge in 2005 – well, that was probably the happiest moment of our lives. I have a DVD copy of his famous tantrum afterwards, screaming at Duncan Fletcher like a rabid banshee, with all the dignity of  a toddler who's dropped his ice cream on the pavement – and I sleep with it under my pillow.
But perhaps today, as we reflect on Punter's exit from the stage, a change of tone is appropriate.
Shouldn't we now celebrate everything he has contributed to international cricket over two decades? Mightn't we pay tribute to his awesome accomplishments as a batsman, ranking as he does among the very greatest of all time. Isn't it fitting to recognise Ponting's authoritative but stylish strokeplay, his steadfastness, his indefatigable competitiveness, and his courageousness as a captain? To acknowledge his status as a true prince of the game?
No.
Maxie Allen