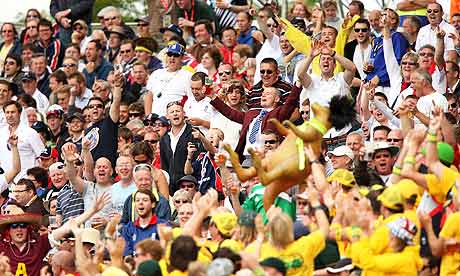 Sydney Morning Herald readers would be choking on their vegemite sarnies if it was 2013. After Australia's recent 0-2 test series defeat to India, the Aussie headlines would read something like this: 'Aussies choke as England snatch semi-final berth', and 'Ponting in crap captaincy shocker (again)'. Admittedly the latter headline would be appropriate for any period over the last five years, but you catch my drift. I am, of course, referring to the fact that the Canary Yellows now sit fifth in the ICC Test rankings – which is one place behind England. Therefore, if the ICC Test Championship playoffs, which are due to start in 2013, were to be held tomorrow, England would have secured the fourth and final playoff berth at Australia's expense. Talk about poking Matilda in the eye on the eve of an eagerly anticipated Ashes series.
We haven't discussed the ICC's decision to introduce a new Test Championship with playoffs yet, so we thought we'd express our support for the idea while England are still, hypothetically, in a playoff spot. In our opinion, test cricket is still by far the most important and engrossing format of the game, but it suffers because it has no showpiece event like its limited overs cousins. An egg chasing friend of mine (that's a rugby fan, by the way) once moaned that all test matches outside of the Ashes are simply glorified friendlies. Although I disagreed with him vociferously, I could see where he was coming from. The new ICC test championship will make sure that all test matches are relevant – even if matches against Bangladesh become an exercise in improving one's run-rate.
Because attendances at test matches have declined worldwide over the last decade, the ICC needs to give test cricket a shot in the arm. The idea of a four year qualification period, after which the top four teams playoff to decide a true test champion, is just what the doctor ordered. The system is far from perfect, as rival sports often build towards major events every two years (football's European championships and World Cup spring to mind), but the number of teams playing test cricket, the time it takes for visiting teams to complete a tour, and the importance of series such as the Ashes (which must surely remain a five match series) precludes meaningful playoffs on a biannual basis. Therefore, the ICC has done about as well as it could in the circumstances.
The one thing we'd question, however, is the decision to introduce a league for fifty over matches. One day internationals already have a showpiece event. Therefore there must be a danger that this new fifty over league will simply devalue the World Cup. Similarly, how can this new league function fairly and credibly? Teams on the subcontinent traditionally play more one day cricket than England, so Asian sides would either have to reduce the amount of matches they play, or Andrew Strauss' men would have to play more – a prospect our centrally contracted players (and the England physiotherapist) would dread. A qualification league in which some teams play more matches than others is inequitable, surely? Or are we missing something? Let us know what you think.
James Morgan