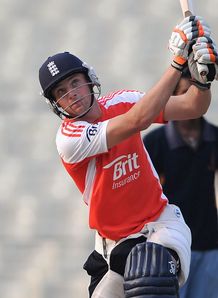 England 287-6 (50 overs). New Zealand 253 all out (46.3 overs)
Cricket has a great way of making people look foolish. For 45 overs of England's innings in the 3rd ODI against the Kiwis, experts were calling the pitch 'sticky', 'two-paced' and rather slow. England's batting was laboured to say the least, although it was certainly better than the tortuous affairs witnessed in the two previous games.
Enter Jos Buttler – the newcomer who had taken T20 by storm, but had yet to really cement his place in England's ODI side. He came, he saw, he twatted it.
Buttler's cameo was so extraordinary that he was just missed out on the fastest half-century by anyone in ODI history: he needed to hit the last ball of England's innings for six, but his slog bounced agonisingly short of the ropes by approximately two metres.
He woke the crowd from their Ravi Bopara induced coma by showing his full repertoire of shots: the scoops, the reverse scoops, the magnificent slogs over cow, tennis shots back over the bowlers heads, and the orthodox aerial drives over extra-cover. It was a breathtaking knock; a total contrast to the stodgy affair served up by his teammates.
With a little bit of help from Eoin Morgan (who also looked back in form), England's total was lifted from a meagre 230 odd to a useful 287. In the process, they showed that the pitch had no demons whatsoever.
New Zealand's chase initially got off to a good start – Finn initially bowled without rhythm or hostility, whilst Broad found some pace but lost his radar. However, just like England at the Rose Bowl, the Black Caps lost wickets at regular intervals and never looked like mounting a successful chase.
The result was a morale boosting win for England ahead of our showdown with Australia on Saturday. In case you haven't heard, the Aussies lost their warm-up match against India in the most humiliating of circumstances: they reduced India to approximately 60-5 but still managed to lose the game by over 200 runs! India recovered to make a total in excess of 300 and then skittled the Aussies fragile batting for just over 60.
England should go into the game as big favourites – here's the latest cricket betting news – but as always with England you never can tell. Out top three still doesn't look particularly dynamic, and without Buttler's late pyrotechnics we probably would've lost yesterday. Then again, Australia's problems look a lot worse than ours.
We can't read too much into ODI matches, but the Aussie top order was exposed technically by India's bowling. This bodes extremely well for The Ashes. If Anderson and Broad can do the same on Saturday – and make Hughes' footwork look like an elephant in quicksand – a psychological edge will be established.
Of course, the experts will say that Saturday's result won't influence The Ashes one little bit, but we disagree. Back in 2005, England surprised the Aussies in a T20 at the Rose Bowl and never looked back.
If you're going to bet on the Ashes, and you're uncertain who to back, Saturday's game could help you decide. If our batting holds up well against Mitchell Starc and Co, we'll all be feeling particularly bullish.
Farewell to New Zealand
Although we play the Kiwis once more in the Champions Trophy, the official New Zealand leg of the summer is now over. It's a little bit sad really. Many of us have grown quite fond of them.
Brendon McCullum is an excellent captain and diplomat, and his team are full of likable blokes. What's more, we won't see Ian Smith in the commentary box for a while. Smithy is definitely one of the more charismatic guests they have on Sky (in an awkward kind of way) and he's also honest, insightful and quite entertaining at times. He also loves rugby – so he's ok in my book.
So long fellas. Thanks for giving us a good test ahead of the Ashes. You've won a lot of friends.
James Morgan
Written in collaboration with Bet365