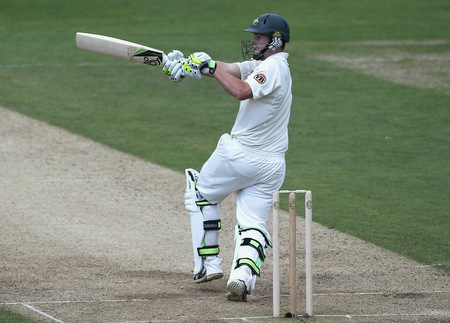 Things have definitely gone topsy turvy down under. The Canary Yellows' Ashes build-up has been a mirror image of England's feeble preparations four years ago. Injuries have ravaged their squad, nobody knows what their best team is, and their batsmen can't buy a run. And now Monty Panesar is taking unbelievable diving one-handed catches. It's all a bit surreal.
Just to underline Australia's problems, five of their likely top seven batsmen at Brisbane were dismissed cheaply in Sheffield Shield games overnight. Shane Watson made just six, Ricky Ponting seven, Mike Hussey a miserable duck, and Simon Katich scored just a single before injuring his shoulder in the field. The most successful of the lot was Brad Haddin, who made ten (at least he reached double figures).
Meanwhile, England's preparations continued to go swimmingly in Hobart. Our second string attack bowled out Australia A for just 230. We had them reeling at 66-5 at one point, so their final total was actually something of a recovery. Chris Tremlett grabbed the headlines with 4-54, but the real star was Ajmal Shahzad, who took 3-57 but bowled well enough to take a five-for.
Although he was bowling into a stiff wind, Shahzad bowled with pace and aggression. None of the Aussie batsmen settled against him and he made Usman Khawaja, Australia's next great batting hope, look more like Usman Afzaal.
The one bright spot for the Canary Yellows was the batting of the unflappable Steven Smith (59), who took to the crisis like a duck to water. It's tempting to throw in a few more bird references here, but I'll save these for future articles on Graeme Swann. The main point is that Smith seems to have something about him, and his all-round skills may yet see him oust Nathan Hauritz in the test XI.
Cricketing cliché dictates that you should always do what your opponents wants least – but it's not an easy to tell which spinner England would want Australia to pick. Smith fans will highlight that fact that runs down the order could be crucial in this Ashes series. Additionally, everyone knows that us Poms hate wrist spin.
On the other hand, Hauritz has a good record against Strauss, and the skipper's runs are likely to be vital. The possible inclusion of two left arm seamers in Australia's line-up also helps Hauritz, as there should be plenty of rough outside the right hander's off-stump to work with. Graeme Swann will certainly be hoping that both Johnson and Bollinger play.
James Morgan