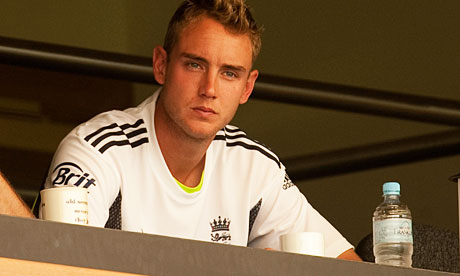 It has just been confirmed. Stuart Broad, England's hero from the triumph against South Africa, has been ruled out of the World Cup with an injured side. The news comes just twenty four hours after Kevin Pietersen, arguable our most feared batsman, flew home to have hernia surgery – thus ruling him out of the World Cup as well. If I had any hair, I'd tear it out. No wonder former England captains like Graham Gooch, Michael Vaughan and Nasser Hussain went bald after they retired.
These injuries are getting beyond ridiculous now. If you include the ones that occurred during the exhausting CB series – which was hard work for us spectators, let alone the players – the injury list is longer than Shaun Tait's run-up. Is it any surprise that England have been inconsistent in this tournament? We've been forced to change the team more times than Imran Khan retired.
So who should we blame? It's certainly not the fault of the players. They train meticulously and have attained unprecedented levels of fitness. The days of having ten pints the night before the game, then limbering up to bowl after a half-hearted stretch on a pavilion bench have long gone. Today's England players are finely tuned athletes – and the England medical staff use the best scientific methods to keep everybody ship shape.
Once upon a time, we might have blamed the management for unnecessarily bowling our star performers into the ground. However, that wouldn't be fair today. It's not Andy Flower's fault that England had to play seven tedious ODIs after the Ashes, then a couple of warm-up games in the subcontinent, before the World Cup even began. He's only got a fifteen man squad to work with. They can't all be given a rest at the same time.
I'm afraid there's only one set of culprits – and that's the boneheads who compile international cricket schedules. Everyone is playing far too much bloody cricket. Today's cricketers might be ultra-fit physical specimens, but they're still only human.
James Morgan