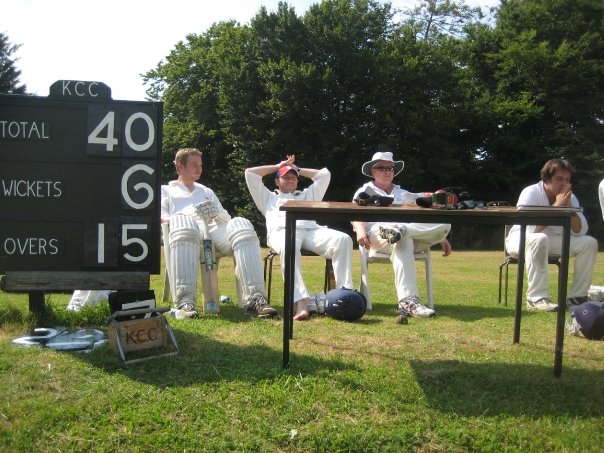 The balmy sunshine of early May, so full of promise, has given way to cloud and rain – which can only mean one thing: the new village cricket season is upon us.
Gone are those warmth-giving rays of tantalising spring weather, which has given way to drizzle and gloom to accompany our first trudge down to the park with the kit bags.
For most of us, the club season starts around now, and so, as is traditional at this time of year, here's the Full Toss guide to the new term down on the village green.
Kit No pre-season prep is complete without the annual overhaul of the club kit bags, which begins by unearthing them from whichever obscure nook of the shed or loft in which your partner finally relented to your storing them over the winter.
You manfully struggle with the dead weight of the bloody things down the loft ladder, wondering how exactly two pairs of pads and three old balls seemingly have a mass of 200 tons.
On opening the bag, the contents will also include: one screwed-up sock, assorted dead leaves, three leaking biros, and a frayed thigh-guard no one has ever used.
You take everything out of the bag, and judge that the cracked bat, and pads with only one working strap ,will just about last another season. Your intention was to execute a full inventory, discarding and then replacing defunct items. But as you can no longer be bothered, you put it all back in again, including the sock.
Membership and recruitment It's time to audit your personnel and rally the troops for the new campaign. As you conduct the roll-call of your members' availability, you are impressed once again by the sheer variety of their excuses for not being able to play this year.
One has emigrated to Papua New Guinea, and three have feigned their own deaths, while two have joined the Moonies.
Another chap – and he is very sorry about this – has contracted a mysteriously vague yet debilitating illness which will rule him out for the summer, although mercifully he can still summon the strength to sit by the boundary and drink cans of lager while criticising your field placings.
And as luck would have it, the really shit bloke is available for every match.
Fixture list The finalising and tweaking of your fixture card is a vital part of your preparations, bringing with it your discovery that the only three clubs you beat last year have all closed down. Your other opponents are brimming with enthusiasm, however, having spent the winter netting four times a week and recruiting lethally fast South African seamers.
But some of the snootier of your opponents may have discarded you during the close season, having finally tired of beating you by ten wickets before 3pm. Your final fixture list, therefore, may be less attractive or logistically straight-forward than you first hoped – with matches scheduled only against Rockall CC, Dasmascus Irregulars, and a Broadmoor patients and staff XI.
Tactics It's time to re-evaluate your on-field stratagems for the challenges ahead. Your occasional spinner has been talking up his "new delivery", which leaves you a difficult decision to make: whether to post nine men on the boundary, or put the wicket-keeper out there as well. Your batting order also requires careful consideration, and a judgement call on where to accommodate the weaker batsmen. Would you rather have the batting collapse at the start of the innings, or not till four overs in?
Nets No self-respecting cricketing outfit can feel adequately prepared for a new season without first spending an hour aimlessly bowling into the side netting before heading to the bar for six pints of Guinness. Attention to detail will ensure that only the most useless players will actually turn up for the nets, and care should be taken to ensure the batsmen receive no playable deliveries during the entire session. Nets also give your squad the perfect opportunity to practise two disciplines which will be a major feature of the months ahead: arriving very late, and "forgetting" to bring their subs.