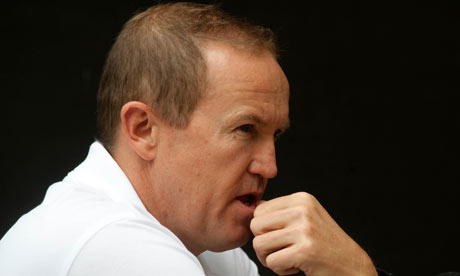 The dust has settled. The celebrations are over. Magical as our miracle escape against New Zealand was, a few home truths must be digested. We can still be confident about the Ashes – Australia's humiliation against India leaves their team spirit and confidence in tatters – but things aren't looking as good as they were two months ago.
If you look on the bright side, this could be the wake-up call we needed. New Zealand exposed some serious flaws – and fortunately, they're relatively easy to put right.
However, I have my doubts. If there's one thing we've learned about Andy Flower's England, it's that they're as inflexible as a 50 year old's hamstrings after the first game of the village season. The more they're criticised the more intransigent they become.
I'm not saying this is always a bad thing. Their stubbornness and resilience are inextricably linked. But in this observer's opinion, we won't give ourselves the best chance of winning the Ashes unless Cook and the management team take a long hard look at themselves.
First of all, I'd like to reassure you this post isn't about picking five bowlers (I can sense your relief!). This is a well trodden debate – and until England can find someone genuinely capable of batting at seven and troubling test class opposition with the ball (so not Chris Woakes) it's never going to happen. Instead, I'm going to suggest two simple ways England could, but probably won't, change before the Ashes.
First of all, Alastair Cook needs to learn from Brendon McCullum. Cook is a brilliant batsman, and an intelligent and hardy character. Unfortunately though, he's only an adequate captain at this point in his career; he can rally the troops, deal with the media skilfully, but his on-field tactics are currently poor.
In many ways, Cook is an Andrew Strauss clone; hardly surprising given that England's management team is exactly the same.
England's primary plan in the field is still to sit in the game, dry up the runs, rarely experiment, and hope the batsmen makes mistakes. This plan won us the Ashes in 2010/11 against an undisciplined Aussie side that essentially imploded, but since then it's been as disastrous as the Cadiz expedition of 1625, when several thousand English seaman decided it would be a good idea to stock up on local wine before assaulting the Spanish City (they all got drunk and had to retreat).
Although this plan worked to a certain extent in India – where Swann and Monty were able to tie India's batsmen down and take wickets at the same time (thanks to some helpful pitches) – it was rubbish against South Africa and it almost cost us the series in New Zealand. David Saker told England's bowlers to aim short of a length because it keeps the batsmen honest. The result? Peter Fulton, or should we call him Uncle Fester, made two centuries. Heaven knows what a decent test opener would have done to us.
New Zealand had the edge in this series because guys like Trent Boult pitched the ball up and attacked the stumps. This plan has been good enough for cricketers of all standards for generations, so why England think they know better is a mystery.
Brendon McCullum gave Cook a masterclass in strategic captaincy. Realising he had merely an adequate attack, and was confronted with an unhelpful pitch, he got creative with his field placing. He would leave huge gaps on the legside to encourage England's batsmen to play across the line. Sometimes, when Bruce Martin was bowling, he had nine (yes all nine!) fielders close around the bat. Meanwhile, he set umbrella fields liberally.
Alastair Cook never, ever does this. England would much rather have two slips and a sweeper – no matter how urgent the need for wickets. New Zealand dominated two of the three test matches because, quite simply, McCullum was an inspiration.
The other thing England need to sort out is their top order. Now this one they definitely won't do; it's far too controversial.
Nick Compton's success in New Zealand has actually given us a big headache. He was the wrong choice in the first place and now his success means he's impossible to drop.
"But how can a new boy scoring two centuries possibly be bad?" I can hear your criticism already. It's because England's top order has the wrong balance of course.
Cook, Compton and Trott are too one-paced. It's amazing to think that Cook is now the most attacking player we've got at the top of the order.
Compton is an admirable cricketer, but he puts pressure on Cook to score faster than he's used to. The result? He's playing stupid shots and getting out (Dunedin being the prime example). England need Cook to play his natural game and score heavily in the Ashes. Picking Compton doesn't help him achieve this.
What's more, Compton and Trott's slow scoring is putting too much pressure on our middle-order. At Wellington they put on an enormous partnership, but it took them too long. Incoming players like Bell and Root had to raise the tempo before they'd played themselves in. They both played inauspicious shots as a result. No wonder Prior and Pietersen are so crucial to the team. They're the only guys who can raise the run-rate without breaking sweat.
Some people have suggested opening the innings with Root. Personally I wouldn't. I like him at six. He's a good player of spin and does well against the old ball. My solution would be to pick an attacking opener like Alex Hales; someone who is a complete contrast to Cook and Trott.
Think about it like this. Australia's batting line up is their weakest in living memory, yet they have a decent battery of young fast bowlers who could cause England trouble. Their only chance in the Ashes, in my opinion, is to pin England's batsmen down and put us on the back-foot immediately.
With Cook, Compton and Trott scoring slowly, Australia can ease themselves into the contest and put us under pressure. And we've seen on plenty of occasions that our batting line up doesn't deal with pressure particularly well. We go into our shells and dig ourselves a hole.
Now imagine this scenario. Alex Hales opens the batting and attacks from the offset – much like Michael Slater used to do. If Hales makes a quick half-century, and England score almost 100 in the first session, Australia will be beaten already. The wind will be taken out of their sails and their one chance of winning the Ashes, in my opinion, will be gone.
So what are England going to do? Play cautiously and give Australia a chance – or be ruthless, attack them from the offset, and kick them when they're down (much like Steve Waugh's Australians used to do to weak England sides)?
I know what I'd like to see – but I doubt it will happen. England's strategy seems to be etched in stone.
James Morgan