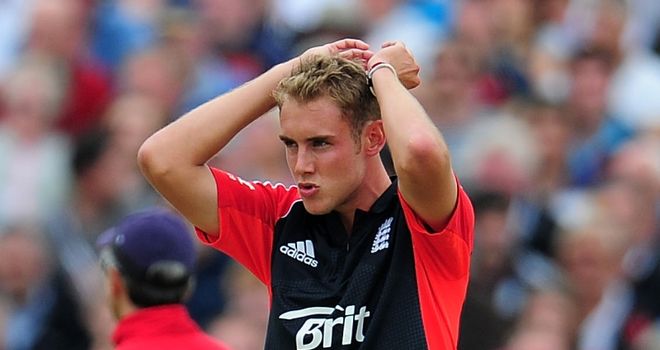 Our tour of Middle Earth is officially underway. Unfortunately nobody told the weather Gods. Our opening match, a T20 against an ambiguously named 'New Zealand XI', was washed out after just 9.1 overs. The hosts had reached 70-1.
We were hoping to talk about the match itself today. But since the weather refused to comply, let's talk about the return of Stuart Broad; he is, after all, T20 captain, one of the coaches' favourite players, and until recently a linchpin of the attack in all forms of the game.
The big question for me is whether he's rediscovered his pace. I don't want to sound like Jeremy Clarkson or James May, but speed makes the world go round – especially when it comes to Broad.
Broad was never genuinely quick, but two years ago he was hitting the high 80s pretty regularly. Given his height, and natural aggression, he was a pretty dangerous international bowler. Ok, so he went over the top now and again, called himself 'the enforcer' (which sounds like a crap Sylvester Stallone character), and bowled too short at times, but when he pitched the ball up he was a genuine handful; batsmen thought they could drive him, but they were frequently mistaken.
Unfortunately however, last summer Broad lost his pace – much like Austin Powers lost his mojo. He became, for want of a better expression, a bit of a trundler.
Broad's lack of menace undermined the whole team against South Africa. In a four man attack, every seamer needs to be firing. Watching Broad amble up to the crease and bowl little more than medium pace was excruciating. Kallis and Amla saw the buffet was open and gorged themselves.
Was this some kind of plan – i.e. was Broad simply trying to keep things tight – or was he injured? I'm going to give Broad the benefit of the doubt. Surely he was injured. Nobody in their right mind could think 78mph dross was preferable to 88mph tracer bullets (©Ravi Shastri).
So going into the New Zealand tour the big question for me is this: which Stuart Broad are we going to see? A revitalised quickie prepared to hit the pitch hard, or the Mark Ealham impersonator? If it's the latter, Broad's career could be in jeopardy. England have too many good bowlers waiting in the wings.
James Morgan