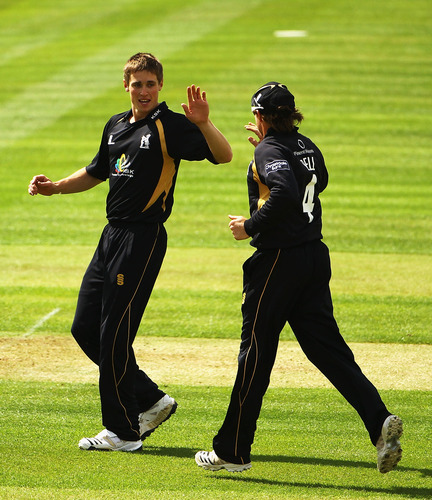 Australia 157-4. England 158-9. England win by 1 wicket (off the last ball)
After a nervy start with the ball, Chris Woakes must have feared the worst. Fortunately, with the bat, the Warwickshire youngster was calmness personified. He brandished the willow with great aplomb and guided England home off the last ball of the match. He's got real courage, this lad. You could even say he's got a heart of Woakes.
We didn't bat convincingly, to be honest, but any win over Australia is delicious. It was also rather amusing to see the Aussies back in their Canary Yellow shirts, especially as their new sponsor is Kentucky Fried Chicken – surely a feather in the cap for CA's marketing department. Ironically, they also gave a debut to a bloke called Finch.
Despite Australia's penchant for bird-related players and sponsors, the Aussie innings never really took off: Shane Watson got his obligatory fifty and then predictably got out; David Warner did his usual impression of a batsman who isn't as good as Shaun Marsh; Cameron White went quickly (thank heavens for that); whilst Steve Smith did some bits well but failed miserably to take England to pieces – which is why, I suppose, he's a bits and pieces cricketer.
Incidentally, Smith didn't bowl – so presumably the Aussie selectors think he's a better specialist batsman than Khawaja, Ferguson, Hodge, Marsh, Christian … (insert as many batsmen as you want here). Will they ever learn?
Our bowlers generally did a good job. Shahzad led the attack well. Bresnan showed his growing maturity, and Yardy continues to confound teams that think he spins the ball. Long may it continue!
When our run-chase got under way, it was all action. Let's face it, the innings was never going to be dull with Tait, Lee and Johnson involved. They're the kind of bowlers that either blast away the batsmen  or get blasted all over the ground themselves. It wasn't a surprise that we were always ahead of the run rate but lost wickets at regular intervals.
Australia's total of 157-4 should have been relatively straightforward to chase – especially when we reached 63-2 off just 5.2 overs. However we played too many daft shots at inappropriate times and made it hard for ourselves.
Not for the first time (and it won't be the last) KP played an ugly drive and was caught off a left arm spinner. He'd hit the previous two balls for boundaries, so there was no need for anything rash. But KP wanted to prove a point. His body language pleaded 'left arm filth cannot hurt me', but the scorebook retorted 'oh yes it can'.
A typically well judged innings by Eoin Morgan kept us ahead of the game, but a flurry of late wickets raised the possibility of an Australian victory. Unlike Mohammad Amir and Mohammad Asif however, Australia just couldn't get over the line. Chris Woakes stole the match with an unlikely (but hugely impressive) innings of 19 not out. He kept his head very, very well.
We have now won eight T20 matches in a row – a world record. Congratulations lads! More importantly, we've managed to keep Australia down. Who cares that we only won by one wicket when we usually beat the Aussies by one innings?!
James Morgan