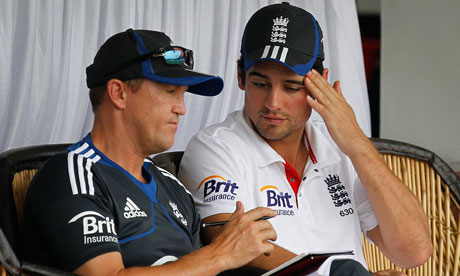 There are two ways to write a cricket blog. The first is to sleep on things, compose oneself, then write in a dispassionate objective manner; the other is to sod all that and write when you're still caught up in the emotion; to write what you're really feeling at the time.
Because you'll read plenty of level headed stuff in the newspapers, and you probably don't read cricket blogs for their impartiality and their caution, I'm going to go for the latter option. Why hold back when I'm subconsciously writing this as much to vent my spleen as I am to inform or entertain our readers?
Basically, I'm beginning to think that Australia are a stronger team than England at the moment. With Rogers playing how England's much vaunted big guns should have done – with discipline and ruthlessness – and Watson looking much more comfortable in the middle-order, I suddenly see an Australian team that can score enough runs to give their world class attack a chance.
Now before you jump down my throat, and laugh at my fickleness, hear me out. I admit that Khawaja and Steve Smith are not test class batsmen yet; but neither is Jonny Bairstow. Furthermore, Joe Root doesn't look like a test opener to me; therefore I think there are weaknesses in both lineups.
Statistically England's main batsmen are better, but they're out of form. That's the bottom line. Furthermore, it's perfectly valid to argue that they've cashed in against some mediocre attacks, but when they've faced top class bowling – like Pakistan's spinners, South Africa's seamers, and Australia's attack in this series – they've been found wanting. India are tough in their own back yard, but there's no mystery about their bowlers; there's no genuine pace or mystery spin.
Then we come to the bowling. England's attack is average. That's right, you heard me. It's average. We are too reliant on Anderson and Swann, and when one has an off day, like Anderson had today, we have nowhere to turn.
Broad and Bresnan are not world class. They are average test bowlers. Look at their career records if you refuse to believe me. Broad was good today, but he's not consistent enough.
Meanwhile, it's debateable whether Bresnan is even one of the best ten bowlers in county cricket. His first class average is a meagre 31, and he's only taken five wickets in an innings six times in his entire career for Yorkshire. Is that pedigree good enough? It's easy to bowl well when the team is being successful. Now that we're under pressure, and we expect and need more from our third seamer, is he really able to deliver?
On flat pitches our attack is continually exposed as toothless: we couldn't even bowl New Zealand out this winter. We had a purple patch down under three years ago, against a disorganised and demoralised opponent, but that was a long time ago now. Since then we've been flayed to all parts by the likes of Darren Sammy, Tino Best, and yes, Ashton Agar. It's a bit humiliating really. There is no venom like there was in the days of Harmison, Hoggard, Flintoff and Jones.
Put simply, Australia have a better attack than us. Swann gives us a slight advantage in the spin department, but Lyon has proved he's no mug. He also gets just as many revs on the ball as Swann (unless Sky's gadget is telling porkies).
The main advantage they've got, however, is numerical. Australia have five bowlers all supporting each other. They can bowl shorter spells – so they're fresher and able to bowl faster and more accurately- and Clarke always has options up his sleeve.
To put it simply, England are outgunned by a superior force – just like they were against South Africa last summer. A five man attack of relatively similar ability will always beat a four man attack. England have been forced to bowl Anderson into the ground over the last twelve months, and the drained figure we saw today is the result.
So what can we expect to see in the rest of this test, and the next six matches? Quite frankly, I expect Australia to hold the Ashes by January unless we make some significant changes.
England have not played well since they became world number one two years ago. The regime is stale and short of ideas and energy . Yes, we changed the captain, but the Flower / Cook axis is exactly the same in approach and mentality as the Flower / Strauss partnership. It's exactly the same team: conservative, cautious and passive.
Furthermore, Cook is proving himself to be a poor choice as captain. It's just unfortunate that he was, and remains, the only choice – unless we want to see the farce of Broad deciding when to use DRS.
Tactically Cook is poor. He was taught a lesson by Brendon McCullum earlier this year, and now Clarke is showing him up too.
Strangely, however, I don't think this matters too much – or at least it's not my biggest concern. Ponting was a poor captain, but he was successful because of his team. What concerns me most is Cook's mental approach. He looks anxious and fearful, both in the field and when he bats. This anxiety has now spread throughout the team. How else can one explain our pitiful run rates since he took the reins?
The other problem is that Flower, Gooch, Saker and Co look completely unable to reverse the team's fortunes (the batting has been disappointing for almost two years now). It's because there's absolutely nothing they can say that they haven't already said to the team a million times before. They've been in the job too long to be able to say anything new.
Flower is a very good coach, as is Gooch. However, all good things must come to an end. There comes a time when things have run their course and two parties must go their separate ways for the greater good.
I fully appreciate that what I'm writing seems a bit surreal and kneejerk. I can't quite believe what I'm saying myself. However, no matter how I ridicule myself, I cannot escape the following logic: when a unit has underperformed for a long period of time, what do you do? Accept the team is getting worse or try to change things? India was brilliant, but if you look at our form since 2011, it was an aberration, not the norm.
So what are we going to do? Probably nothing. Now I've written us off, England are bound to find form again and win the next six games. Besides, if the alternative to Flower is Ashley Giles – a good bloke and man manager, but hardly a dynamic tactical brain or inspirational motivator – we're probably better off sticking with the status quo.
Either way, we're screwed. Or at least it feels that way at the moment. Maybe it will all look rosier in the morning.
James Morgan