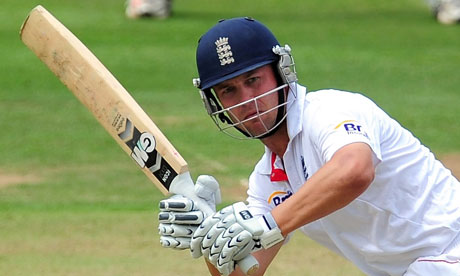 England 330. India 326-9 dec. England 161-3
Well you didn't think we were going to breeze it, did you? Much as we'd have loved Kevin Pietersen to score a run a ball hundred and take the game away from India completely, it was never going to happen on this abysmal pitch. All things considered 161-3 was a pretty good effort – even if the cricket was duller than a dinner party involving Duncan Fletcher, Gordon Brown and Prince Charles.
The fact of the matter is that we're still edging – quite literally on occasions – to a historic series win. India will need one hell of a morning tomorrow if they're going to win this game. If England can bat for another two to three hours, and add something in the region of another one hundred runs, the series will be safe.
Sure, there will be a few neurotic fans concerned that Sehwag and Dhoni might slog 250 in forty overs, but I just can't see it on this pitch. It would be a tall order in an ODI, let alone on the fifth day of a test match when the bowling side can put fielders where they like (there will be no fielding restrictions of course).
Therefore tomorrow morning, much like today I suppose, will become a countdown. We'll be ticking off the overs anxiously until the time / runs required ratio goes from improbable to impossible.
If Jonathan Trott and Ian Bell continue to bat as heroically as they did today, India's task will soon become extremely difficult. Besides, even if we get skittled for another fifty runs in the morning session, India will still need in excess of 200 runs in two sessions – a scoring rate significantly higher than the match average. Indeed, if the boot was on the other foot, we'd probably expect England to perish going for quick runs.
So basically, we're confident. Or are we? I suppose there's always that nagging doubt at the back of our minds: we are England, and we never, ever, make things simple. I'd be amazed if there isn't a slight wobble at some point tomorrow.
Talking of wobbles, or in this case throwing a wobbly, Dhoni confronted the umpires angrily when an appeal for caught behind was turned down in the final session. Even though the replays (and snicko) showed no edge, the Indians were livid that Trott survived.
I really like Dhoni as a cricketer, so I don't want to be too harsh, but in the context of  India's intransigence over DRS I have no sympathy for the bloke at all. What's more, Dhoni has absolutely nothing to complain about. Alastair Cook, our key batsman, has been wrongly given out twice in this match – blunders so serious they could easily have cost England the match (and technically still could). If anyone should be angry, it's Cook and the England team.
One aspect of DRS that hasn't really been discussed much is how it generally improves the conduct of players. The BCCI refuse to use technology because it allegedly challenges the authority of the umpires; they believe the principle that 'the umpire is always right' should be sacrosanct. It's a noble idea in theory, but in practice it simply doesn't happen like that. There has been far less dissent and questioning of umpiring decisions since DRS was introduced.
What's more, I simply cannot square Dhoni's behaviour today with the stance of his board. Let's face it, if DRS was available in this game, Dhoni would have called a review, been proved wrong, and the game would have continued. There would have been no dissent – and the game would have moved on without Kohli strutting around like he owns the place.
The Indian team can't have it both ways. They should either back the umpires and shut up, or accept what everyone else in the world already knows: that DRS isn't perfect, it interrupts the flow of the game somewhat, but more key decisions are correct. That's why every other country supports its use.
Why Indian cricket can't see this inescapable fact is a conundrum I'm afraid. I can forgive Dhoni's behaviour to a certain extent because he's under huge pressure from an expectant nation and demanding media. His conduct is probably just born of frustration. The attitude of his board, however, I find much harder to fathom.
Did you know that they aren't even having this debate in India – not in the commentary box anyway? The BCCI have forbidden Shastri and Co from talking about DRS on air. Incredible. They'd obviously rather behave like Stalinists than a progressive forward thinking organisation. What a pity.
James Morgan