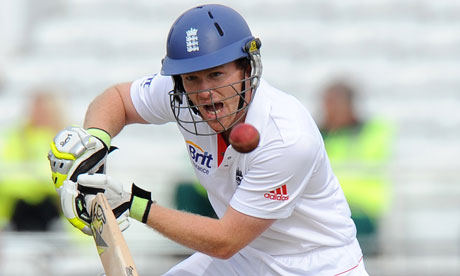 India 224 & 35-1. England 710-7 dec (yes, we really got that many)
Shane Warne described it as the most boring day's cricket he has ever seen. That just about summed it up. India went through the motions, and England cantered towards an enormous first innings lead. Alastair Cook scored a mammoth double ton (narrowly missing out on a triple) but the most challenging part of his day was remembering how many runs he'd scored when a power-cut killed Edgbaston's electronic scoreboard during the afternoon.
Meanwhile, Eoin Morgan scored his second test century (amazingly just his tenth first class ton), but did nothing to silence his doubters. Even Mark Lathwell would have scored a ton against India's toothless wonders. Morgan hit a few sweet boundaries, but still looks uncertain in defence to me. Let's not forget that he should have been out caught twice yesterday.
As for Ravi Bopara, the least said the better. His dismissal for a low score was even more predictable than Simon Taufel's eagerness to take the players off the field at the first opportunity. Poor old Ravi has that haunted look – the one we used to see in Mark Ramprakash's eyes. I really wouldn't persevere with him much longer. James Taylor seems to have the ability to seize the moment; he made runs for the Lions yet again on Friday.
Some people describe Taufel as 'the best umpire in the world'. I prefer my description: 'pedantic jobsworth'. Why bother trying to entertain a capacity crowd (that has endured a turgid day's play) when there's some illogical regulation to apply?
Taufel is wasted in cricket to be honest. He would make a much better traffic warden. He seems to relish protocol as much as he relishes the authority that being an umpire bestows on him. He took the players off for bad light twice during the afternoon. Quite how the Indian bowlers posed a danger to a batsman on 200 not out is anyone's guess. From henceforward, I'm going to refer to him as Simon Awful. And that Steve Davis isn't much better either.
The other major talking point of the day was whether England could have scored more quickly to set up the declaration. On one hand, time was on England's side – we'll still have two days to bowl India out. On the other, Cook's inability to raise the tempo is becoming quite tedious. It's hard to criticise a bloke that makes a double hundred, but even Shiv Chanderpaul has got another gear. Thank heavens Jonathan Trott wasn't playing too.
All these gripes, however, are rather churlish. England took another step towards their ultimate goal on Friday: being the world's number one test team. It seems inevitable now. The pitch is beginning to turn square, and Kevin Pietersen will never get a better chance to take a test five wicket haul. His rival, of course, will be Graeme Swann, who deserved to have Gambhir lbw in the penultimate over of the day. Once again, India's refusal to use the DRS saved them.
If England complete their victory tomorrow, it will spark great celebrations. It's just a shame that India haven't put up more of a fight. Their day was summed up when Sehwag was dismissed first ball for the second time in the match. Some saviour he's proved to be.
James Morgan