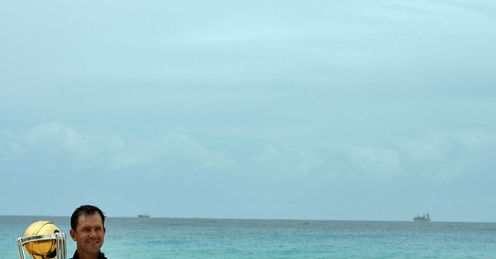 After everything he's won, now is the time for Ricky Ponting to head into the sunset
Australia's thrilling victory over South Africa in the second test gives Ricky Ponting a chance to do something he has never been good at: quitting. His 62 in the second innings rescued his team from a perilous situation, and although he couldn't finish the job himself, he steadied the innings and played a valuable role in their pursuit of 310.
It was one of the few highlights of what has been a depressing two years for the former Aussie skipper – the man we love to hate perhaps more than any contemporary cricketer. If he wants to go out on a high, with his dignity still intact, this is indisputably the time to do it.
No doubt some Australian newspapers will claim that Ricky has still got what it takes, and should be given a few more matches to prove his longevity – even though every Aussie hack from Walla Walla to Woolloomooloo has been slating him for weeks – but the undeniable truth is that Punter has been in decline for some time. His 62 yesterday was just his second half century in two years – a period in which he has averaged a paltry 25.
Even his dismissal yesterday seemed to illustrate his decline: he tried to cut a longhop from Morne Morkel, but cue-ended it to second slip. Unless my own eyes are deceiving me, Ponting's reactions just aren't what they used to be; a younger Punter would surely have slapped it through point for four.
There's no doubt that the Aussie selectors will realise this. They probably wanted to give Punter his P-45 a year ago, but there were no promising batsmen to replace him. The situation is different this time:
Shaun Marsh will be fit for Australia's next test match. Marsh did enough in Sri Lanka to merit his place in the side, and his deputy in the last test, Usman Khawaja, also made a composed half century in Australia's successful run chase. To retain Ponting now, whilst jettisoning Khawaja (or making Marsh fight for his place) would be about as Australian as a teetotal barbeque; the Canary Yellows have to start planning for the future now. Ponting must be the man to make way.
If Punter sees sense and calls it a day, it will be the end of an era – not just for Australian cricket, but for English cricket fans too. Ponting has been our nemesis for nigh on fifteen years. At his best he was an awesome opponent – and captain of arguably the best team in cricket history. At his worst he was a hilarious object of ridicule: the man with the Posh Spice pout who was a bad winner and an even worse loser.
In his early days, Punter was an expert sledger who snarled at any opponent that moved. He was also a precocious brat who was often in the headlines for the wrong reasons; during the 1998 Ashes he was involved in a brawl at an insalubrious Sydney nightspot, just yards from a hostel where scores of England fans were staying.
He was also arguably the finest batsman in the world – although on balance, both Tendulkar and Lara were better players; Ponting was a terrific batsman, but too many bowlers got on top of him with regularity. Harbhajan Singh dismissed him ten times in fourteen tests, and our very own Darren Gough cleaned up Punter seven times in eight tests.
Ponting also looked somewhat vulnerable against genuine pace – perhaps no more than most quality test batsmen, but certainly more so that Tendulkar and Lara, who were touched by genius. Ponting was simply a very very good batsman; a genius he was not.
Having said that, Ponting scored hatfuls of runs against England in his early days; how could he have failed against the might of Alan Mullally and Peter Such? His very name struck fear into our hearts. Every time he strode to the wicket, we sensed that a run-a-ball hundred was almost inevitable. What's more, he relished every run – each boundary seemed to say 'shove that up your Pommie behinds'. In return, there was nothing us England fans could do except hate him with every living pore.
When we occasionally got the better of Punter, it was therefore twenty four carat gold. Who can forget his infamous rant at Trent Bridge in 2005, when he was run out by a substitute fielder that played for Durham reserves? The words 'Ponting, run out (Pratt)' will go down in Ashes folklore forever.
Then there was his blatant pressuring of umpires in tight situations; hell, any situation was likely to make Ricky run towards the umpire from second slip with a look of fury and disbelief in his eyes when an appeal was turned down. There is little doubt that his antics pushed the spirit of the game to the very limit. Even in Australia, respected newspapers asked whether his side were the most dislikeable team in test history.
To be fair to Ponting he mellowed somewhat in the autumn of his career. He admitted as much in a television interview after the birth of his first child. Of course, he could still act like a total buffoon on occasion – who could forget his spat with the umpires at Melbourne during the last Ashes series – but overall he became a much more likable personality. Perhaps time gave him, as it does the best of us, a little perspective.
It is therefore with some sadness that we've witnessed Punter's decline in recent seasons. I never thought it would be possible five years ago, but I actually feel a little sorry for Ricky these days.
There is a real danger that most of the Australian public will remember him as the only Australian captain to lose three Ashes series – rather than the Australian skipper who has won more matches than any other. Furthermore, Ponting's lack of form over the last two years has seemed rather undignified – it's been like watching a famous politician slowly lose his marbles and go from world statesman to an incontinent wreck.
Steve Waugh never suffered the same way; Waugh even said farewell after a fairytale hundred at the SCG, which was his spiritual home. It is unlikely that Ponting will get to say goodbye in such a poignant fashion – even though he was no less a cricketer.
Steve Waugh and Ponting were both true champions – the best batsmen Australia have produced since Greg Chappell. Although we've spent most of the last fifteen years booing Punter, and portraying him as a pantomime villain, most England fans will admit that he's been a worthy adversary – and one who definitely deserves to go out on a high. That's why the time is right for Ponting to retire. Do it now Ricky, before the selectors make the decision for you.
James Morgan