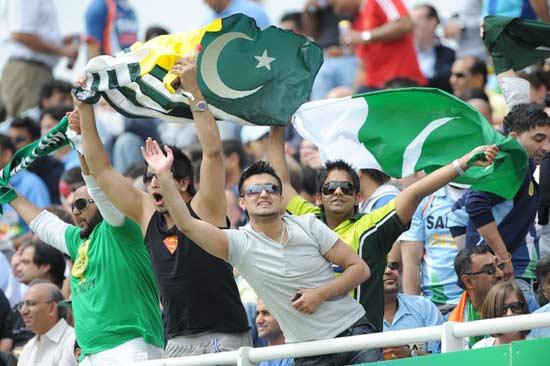 This summer England are hosting a mini test series between Pakistan and Australia – something we should be proud of. It's good to see us helping out the beleaguered Pakistanis. International cricket can't afford to lose a colourful team like Pakistan, so well done to the ECB  for helping them out whilst the security situation within their country remains dire.
If the recent T20 games between Pakistan and Australia are anything to go by, the atmosphere in the forthcoming tests promises to be electric. The Asian communities in England are sure to come out in force to support the Pakistanis, but who will you be supporting? It's a bit of a tricky one. In fact, the Caucasian support could well be divided.
Neither Pakistan nor Australia have been amongst our favourite teams in recent years. For every ball tampering dispute there has been a 12th man controversy involving the likes of Gary Pratt or Bilal Shafayat; and for every dubious umpiring decision by Shakoor Rana there has been an Ian Healy or a Shane Warne trying to con a neutral umpire into giving an equally dubious decision.
So where should our loyalties lie? There are two trains of thought. The first one suggests England fans should support Australia. Why? Because they are culturally similar to ourselves and play cricket in a similar fashion. Like England, the Aussies have historically relied on pace bowling and orthodox batting to succeed, whereas Pakistan have produced wristy batsmen and often rely on their spinners to take wickets (as well the odd thoroughbred fast bowler like Imran Khan or Wasim Akram).
The other perspective, however, is that no Englishman worth his salt would ever want an Australian to succeed at anything (unless it's Kylie Minogue). Therefore, asking an Englishman to support Australia in a test series is a bit like asking an English football fan to support Germany in the semi-finals of the World Cup. It's just not going to happen! We all wanted Spain to beat Germany  … no matter how culturally similar we are to the Germans. At the end of the day, you want your rivals to lose. That's what rivalry is about.
The clincher for us, however, is simple: there's an Ashes series coming up. Do we want Ponting and his boys to beat Pakistan convincingly and build up a head of steam before the winter? No way. We want their confidence in the doldrums and their batsmen / bowlers struggling for form. So the answer from the full toss is a decisive one. Come on Pakistan! Shahid Afridi can walk all over the wicket as much as he likes as long as his team gives the canary yellows a good stuffing.
James Morgan
PS England are playing Bangladesh in a one-day game on Thursday. We don't know the score and we don't really care … we're tired of these meaningless games. We'll let you know if anything remarkable (or even vaguely interesting) happens. Bet it doesn't though.