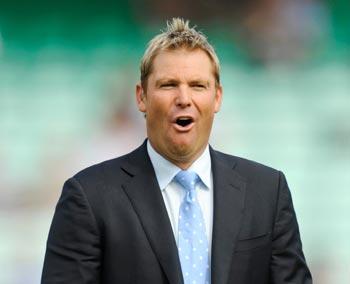 Shane Warne's poker career is in jeopardy after burning his dealing hand on a pair of hair straighteners
Pro-poker player and former Hampshire tail-ender, Shane Warne, announced earlier this week that his debut in Australia's Big Bash was in doubt after he burned his hand in a domestic accident. However, rumours are rife that Warney has been less than candid about the source of his injury.
At first it was claimed that he'd got careless while cooking a barbeque (eighteen cans of crap Aussie lager will do that to you). Subsequently Warne's agent, Frankie 'Four Fingers' Piscano, claimed he'd burned himself on a frying pan whilst cooking Liz Hurley her daily bacon butty.
However, The Full Toss can now reveal the true source of the injury. According to Rosamaria Ramirez, the couple's Puerto Rican cleaning lady, Warne actually suffered the injury whilst grooming his chest hair with Lizzy's GHDs. Ramirez has subsequently been sacked by the celebrity twosome for breeching a confidentiality agreement.
However the cleaning lady, who came highly recommended by George Clooney (a former employer) and Stuart MacGill (one of Ramirez's co-workers) has refused to take the decision lying down.
She's currently suing Warne and Hurley for unfair dismissal – she claims that Warne's cosmetic fetish was common knowledge, and that the confidentiality agreement only related to his penchant for using fried chicken in the bedroom. We await the outcome with baited breath.
Australia find positives in defeat
 James Pattinson is at least six times better at bowling than Australia's best young batsman is at batting
Meanwhile, the fallout from Australia's first home test defeat to New Zealand since Ian Smith was a cricketer, rather than a random rugby pundit, has been surprisingly mild. Although the Baggy Greens collapsed like the proverbial pack of cards in Hobart, and threw away what seemed to be an unassailable position, the Australian media has found several positives in defeat.
Most notably, James Pattinson (Darren Pattinson's talented brother) has been hailed as the best young bowling prospect to emerge down under since Patrick Cummins – who emerged, err, all of two weeks ago.
 Australia fans are therefore licking their lips at the prospect of a Cummins and Pattinson new ball partnership – a formidable duo that could potentially lead the Aussies' attack for the next decade.
However, in our second exclusive scoop of the day, The Full Toss can reveal that Australians have become so obsessed with the phrase 'you need to take twenty wickets to win a test match' (and who can blame them after watching Mitchell Johnson struggle to take a single wicket in the last three years) that they've forgotten scoring runs is equally important.
Cummins and Pattinson won't be much use if Australia keep getting bowled out for 47; and that aint going to happen until they find replacements for the likes of Ricky Ponting, whose dismissals against New Zealand would have made Mark Lathwell blush.
James Morgan