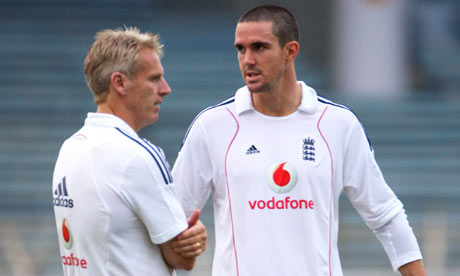 If there's an elephant in the room, don't expect Kevin Pietersen to ignore it. He's more likely to pull its trunk and cause a stampede.  Andrew Strauss and Andy Flower have been getting a lot of praise since England retained the Ashes. So much so that many people have forgotten the circumstances in which they were appointed.
KP isn't one of them though – and yesterday he relished the opportunity to remind everyone that England wouldn't have been so successful if Peter Moores was still England coach.
Whatever you think of Moores, or indeed KP himself, it's hard to deny that our ex-captain has a point. Moores was a quirky character who polarised the squad. Half of them loved his methods – when we interviewed Andrew Flintoff during the English summer he expressed his admiration for the Lancs coach – but the other half thought he was under-qualified and daft as a brush.
Divided teams rarely win important series. Therefore it seems rational to conclude that Moore's departure was a catalyst that improved team spirit and propelled England to successive Ashes victories.
What seems so distasteful, however, is that KP was the one to remind us. Although he did a great job persuading the team to tour India after the Mumbai terrorist attacks, Pietersen is hardly a unifying figure himself. Therefore his claim that the stance he took over Moores was crucial in England's Ashes success seems hypocritical and self-serving. KP even spun the line that he gave up the England captaincy for the sake of the team. Oh KP, you're such a martyr.
When Moores was forced out in January 2009 we were generally supportive of Pietersen. We had doubts about Moores' credentials and KP was our best (and only world class) batsman. When it became clear that one of them had to go, the coach seemed more expendable. When both captain and coach departed, the team was left in turmoil and the ECB with egg on its face. It all seemed rather unnecessary.
However, this time we have a lot more sympathy for Moores. Retaining the Ashes was a moment of national triumph – Pietersen's dig was therefore wholly unnecessary. Why dig up the past in order to pat oneself on the back?
Meanwhile, KP's implication that he was somehow personally responsible for the emergence of the Flower / Strauss axis is entirely disingenuous. If Pietersen had had his way, he would still be captain and his old mate Graham Ford would be England coach. It didn't quite pan out like that did it, Kevin.
After hearing Pietersen claim that Mitchell Johnson took wickets at Perth because the England batsmen were unprepared to face the swinging ball, David Lloyd chuckled to himself and told Sky viewers that KP 'says things he doesn't mean'. In other words, he opens his mouth without thinking sometimes.
KP would do well to remember the old adage that a closed mouth gathers no foot. Dragging up a divisive issue from the past (a controversy which caused major rifts in the squad) was the last thing England needed on the eve of an important test match.
There is a silver lining, however. The reckless nature and timing of Pietersen's words at least proves that his recent observations are indeed correct – it is, after all, surely a good thing that KP is no longer captain. If that's not irony, then I don't know what is.
James Morgan