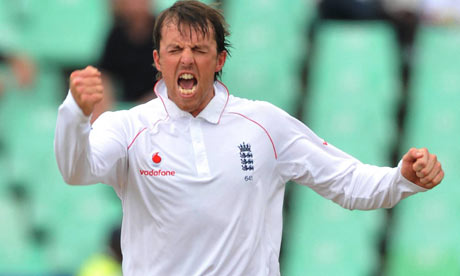 Andy Flower's deadpan persona is great at making the media look stupid – even its most cerebral members.
When Mike Atherton interviewed our team director after we wrapped up the win yesterday, he asked him whether his team had squandered an advantage by not enforcing the follow on.
Flower looked quizzically at Atherton – a bemused look which certainly contained more than a smidgeon of distain – and scowled "well, I don't know what advantage you're talking about … we won the game".
It's safe to say that Andy Flower is a man who knows his own mind. He doesn't suffer fools lightly – or inane, predictable questions for that matter – and rumour has it that he once smiled (although the England management strenuously denies this).
Sometimes Flower's stubbornness, and innate conservatism, make him look a little stupid. Yesterday, however, the weather spared his blushes.
The bottom line is that England won, and they won well. What's more, by spurning the follow on, two key batsmen who are vital to our Ashes chances spent valuable time in the middle and returned to form. England got the best possible result from this game after all.
Overall, the team can pat themselves on the back for a job well done. The fans called for a decisive win – and that's exactly what we got in the end. After playing pretty poorly for four test matches after our historic triumph in India, confidence has been restored.
The bowlers look in good shape: Anderson looks in fine fettle, Broad has discovered some form, Finn looks more comfortable in his run-up and has stopped hitting the stumps in his delivery stride, and Swann is back in the fold and turning the ball prodigiously.
The batting, Nick Compton and Ian Bell apart, also looks formidable – and that's without Kevin Pietersen (who tweeted yesterday that he's stepping up his recovery by hitting balls in the nets).
Flower refused to commit to Compton yesterday – he said 'there's a lot of cricket to be played between now and the Ashes' when asked whether the Somerset man would be Cook's opening partner in six weeks time – so it's quite possible that one of the weak links won't be there.
Meanwhile, is anyone really worried about Bell? He's still a quality player and he'll probably score buckets of runs opening in the Champions Trophy. What's more, Bell's the kind of player who cashes in when the team is playing well around him.
England's batting therefore looks strong heading into the Ashes. Jonny Bairstow, who has looked good against pace (if not spin) in his short test career, probably won't get a game. If he was Australian, he'd probably be their best batsman after Michael Clarke.
Are we more confident about the Ashes that we were a week ago? You betcha.
James Morgan