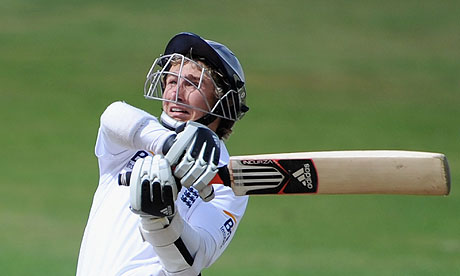 A cynic might suggest that James Taylor will play at Headlingley for one reason and one reason only: he's a batsman. In the management's eyes, this alone qualifies him to play.
England decided long ago that they must play six batsmen at all costs, otherwise they might actually be in danger of bowling a world class batting side out.
If the fat slogger who plays for your club's third XI was the only batsman available, he'd probably play too. The individual merits of the batsman in question don't matter. The selectors are simply crossing their fingers and hoping that Taylor is the magic solution at number six.
I say this because England's management simply can't be convinced by Taylor yet. If they were, they would have picked him ahead of Ravi Bopara and Jonny Bairstow earlier in the summer. They would also have given him a chance last year – either in ODIs or in a touring squad.
Thus far Taylor has played just one ODI: it was against Ireland last year in a match when many of our best players were rested. After failing to make an impression, Taylor dropped down the pecking faster than young cricketers leave Leicestershire when they catch the selectors' eyes.
The other thing to bear in mind is that Taylor only averages in the mid-thirties in the championship since 2011. In one of those seasons he was playing in the second division. This year he has scored just one century and one fifty. It's hardly the record of a burgeoning young talent.
But statistics aren't everything you might say. You'd be right of course. Neither Marcus Trescothick nor Michael Vaughan had particularly brilliant county records when they were elevated to the test team.
However, both these former England stalwarts had something about them. They looked classy at the crease, scored runs against good opposition, and although they hadn't set the world on fire at Somerset and Yorkshire respectively, they possessed something that all top batsmen have: they rarely looked flustered had plenty of time to play the ball.
James Taylor is a different kettle of fish. You might say he's an ugly looking batsman. He's scruffy at the crease, his method looks scratchy and those in the know believe he has a weakness against genuine pace.
Of course, none of this means that Taylor can't be successful. Looks aren't everything. It's what's on the inside that counts.
If runs were awarded for style alone, Mark Ramprakash would have been an all time great, whereas Shiv Canderpaul would never have made a test appearance. And perhaps Taylor is exactly what England need? A nuggety batsman between fluent strokemakers like Bell and Prior provides a nice contrast.
My point, however, is that picking Taylor is a risk. It's a big one too. England have been playing with ten men for 12 months due to the inability of Morgan, Bairstow and Bopara to score meaningful runs. It's a tall order to ask your fourth choice sixth batsman to flourish against the likes of Steyn and Morkel.
However, Taylor's elevation is also a fascinating gamble. It's interesting that England would rather take a punt on an unproven young batsman (with little track record of success in county cricket) than pick Steven Finn, a fifth bowler with genuine pace and a proven strike rate at test level.
Although the England management deserve a lot of credit for the team's achievements in recent times, the one criticism that's often levelled at them is a lack of imagination and an aversion to risk. If the scruffy looking Taylor is included in the final XI at Headingley, it will just go to show that conservatism, much like beauty, is in the eye of the beholder.
James Morgan