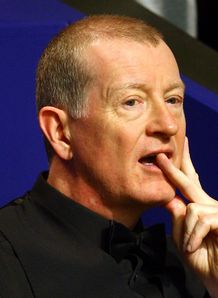 An 'interesting' comparison
One of the above is a sporting hero loved by the nation despite his penchant for the dull and predictable. The other is Jonathan Trott. It doesn't seem fair really. Trott is statistically the best batsman we've had since, I don't know, WG Grace? However, whereas the bearded wonder from yesteryear famously refused to return to the pavilion after being dismissed, arguing that 'the public have come to see me bat', the chances of Trott being able to say the same are practically zero. Yesterday, the sparse crowd at the SWALEC had to wake up from their slumber to applaud his double hundred.
Steve 'interesting' Davis was the best snooker player in the world when he won six World Championships in the 1980s. In 1985, he lost the final to Dennis Taylor in a match that attracted a mammoth 18.5 million television viewers. Although Davis wasn't the most exciting player on the planet, the public revelled in his perfectionism. They also enjoyed his humble self-deprecation – he once appeared in a series of TV ads for Heinz and joked 'it must be nice to be interesting'.
I wonder how many viewers bothered watching Trott's epic yesterday? I suspect it was more like eighteen hundred than eighteen million. It was also the closest that I've ever come (me, the biggest cricket tragic in history) to changing channels in the middle of a test match.
England were effectively 370-3 at one stage, yet they were scoring at approximately two runs per over – despite the fact that the bowling looked tame, two well established batsmen were at the crease, and time in the game was running short. It was almost as if they didn't want to raise the tempo and win the game.
Once England drew level with Sri Lanka's total late in the evening session, they finally put the pedal to the metal – but it was too late. Had they done so earlier, the lead would have been a commanding 150 overnight, instead of the slightly disappointing 90. I found myself thinking 'if only Trott had got out earlier'. The attacking approach of Morgan and Prior would have been much better in the circumstances – and a lot more entertaining to watch.
However, at the same time I felt rather guilty. Trott is the consummate professional. It doesn't seem fair that he should be criticised for doing what English batsman rarely do – scoring shed loads of runs on a consistent basis. So what if he's about as exciting as a chicken korma? His career strike rate is better than both Shiv Chanderpaul and Rahul Dravid.
The other thing to remember is that Trott was probably batting to instruction. If he's scoring too slowly, Strauss and Flower should have told him to get a move on. I suspect, however, that they were quite happy with the pace of Trott's innings. The England think tank are a notoriously conservative lot.
So why are so many people grumbling about Trott? Are they just ungrateful thrill seekers drunk on our Ashes success? It's human nature for people to want more. Now that England cricket fans are used to winning, they want to win in style.
The problem for Trott is that he's very much an old fashioned batsman. He isn't quite as turgid as Chris Tavare, but he's no Chris Gayle. In an era when T20 cricket is king, and the public demands instant gratification, Trott needs to find another gear if he wants to be loved. Either that or he needs a charisma transplant. Maybe he should phone up Heinz and see if they've got any work going.
James Morgan