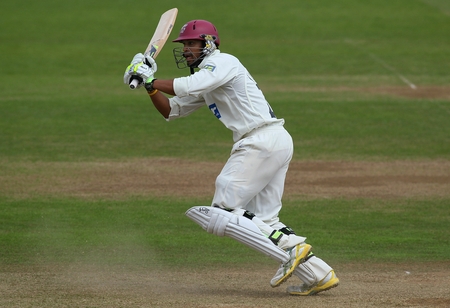 Are you a batsman short of form? Get yourself down to Taunton. It's been a bowler's graveyard for years. Marcus Trescothick is the local bully but visitors have done pretty well there too. Graeme Hick once plundered 405 at the ground, and India amassed 373-6 against Sri Lanka at Taunton in the 1999 World Cup; that popular chap Sourav Ganguly made 183.
Seeing that India were playing Somerset this week, strings were pulled to get Andrew Strauss – who hasn't been able to hit a cow's backside with a banjo in recent times – some match practice ahead of the first test.
Although it's a little odd that he's playing for Somerset rather than Middlesex, there wasn't much of an option really. Middlesex's last 584 matches have been T20 encounters. Strauss simply had to play against the tourists or he'd go into the first test undercooked.
Fortunately, it looks like the plan has worked out well. The England skipper put his dodgy form behind him yesterday in a composed innings of 78 – and yes, Zaheer Khan was indeed playing. Maybe Strauss has finally worked out how to play left-arm seamers.
The real star of the day, however, was Arul Suppiah, the Malaysian born all-rounder who went to Millfield School. He made 145no out of Somerset's 329-2. He's having a great run at the moment. Last week he took 6 wickets for 5 runs in the Friends Life with his left-arm spin.
We know this may not last – as India will surely be a match for England in the upcoming test series – so let's enjoy some of the Indians' bowling figures while we can: Sreesanth 16-3-64-0, Mishra 14.5-0-69-1, Raina 8-0-42-1, and (best of all) Yuvraj 9-0-68-0.
The Indian bowlers can consider themselves well and truly Taunton-ed.
James Morgan