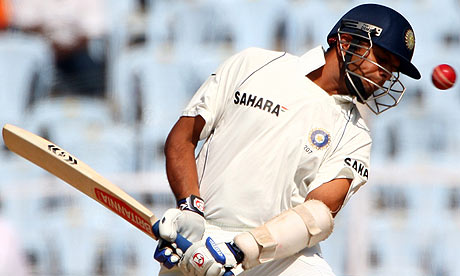 Was this how it felt being an Australian, ten years ago? These are remarkable times. Put bluntly, our team are now thrashing everyone in sight, and we have two crucial hallmarks of a champion team. We can recover from almost any situation – we were 124-8 and then won by 319 runs – and we have turned into bullies. Our players harass and torment the opposition, without mercy.
Some have argued that the scale of our victories – both in this series and during the Ashes – are devalued by the weakness of the opponents. India have been without several key players, arrived underprepared, and have lacked the stomach for a fight.
But that is what makes you the best team – by not being the side which is under-strength or demoralised. Remember how many Ashes series, in the 1990s and early 2000s, were distorted by the absence, say, of Gough or Thorpe. No-one argued then that it took the gloss off Australia's triumphs.
It comes back to the notion of bullying. India have been made to look much weaker than they really are because England's aggression and professionalism have won the big moments. Then India's heads drop, the margins between the sides increase, and as morale disintegrates, the visitors have become so demoralised that, in this match, they virtually gave up.  We didn't win because India were weak. We won because our superior play brought out their weaknesses.
How much did Bell-gate discredit this victory? In the eighteen hours which followed the incident, the mood swung from outrage at India's antics to the slow realisation that England pushed their luck. Why did Strauss and Flower need to approach Dhoni? Why couldn't Bell have simply accepted his fate, and not returned to the field?
But if the incident snuffed out India's resolve and spirit, and consigned them to defeat, they only have themselves to blame. Bell only made another 22 runs, and by that stage – even though the lead wasn't definitive – they were already well behind the game. India took two wickets with the new ball shortly afterwards, and with it the chance to restrict the target to realistic proportions. Their failure to do so had nothing to do with what had gone before.
We're only half-way through the series, and although India can no longer win it, a victory for them at Edgbaston – with Zaheer and Sehwag back – would effectively make the Oval a decider, in terms of the 'world title'. But their confidence is so low, and England's so high, that India supporters must now fear a whitewash.
We can now expect a week of debate about England's selection for Birmingham. How can you drop Bresnan after taking seven wickets and making 101 runs? Or leave Tremlett out? If Trott isn't fit, is it really worth bringing in Ravi Bopara or James Taylor when our tail is batting so well? On the other hand, given that India have yet to make 300 this series, why would we need five bowlers?
I suspect this one will run and run. Your thoughts?
Maxie Allen