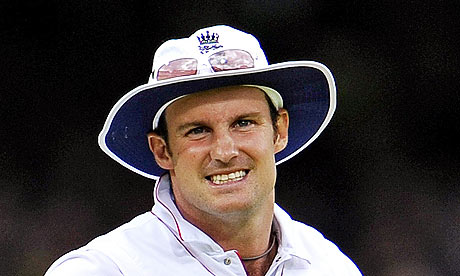 South Africa 262-7
I really must stop sitting on the fence. It's not me. Having failed miserably to take sides in the Kevin Pietersen debacle, I now can't decide whether England have had a good day or a bad one. Does that make me indecisive? I can't decide.
On the one hand, we should be pleased because England are still very much in this game. Bowling South Africa out for around 300 (as seems likely tomorrow) is a good effort for a four man attack that hasn't been firing on all cylinders all summer.
One the other hand, the one which sees the pint glass half empty (when it's actually three quarters full), today should have been much better. We had the Saffers on the ropes at fifty odd for four, but let them recover to 262-7, which could yet prove to be a competitive total. See my dilemma?
I just find that watching England is a very frustrating experience at the moment. My fear all along was that we'd get out-gunned by South's 5 man attack this series, and I still don't see anything to change my mind.
You know how you all felt when England left out Graeme Swann at Headlingley? Well I feel like that every time I see England submit their final XI. I really believe we have the bowlers to compete on equal terms, and a genuine all rounder in Prior, but we just don't pick the right team. Did you know that Graham Onions took 9-67 in 16 overs for Durham today? Surely he should be playing in a must win test match ahead of one of our rookie batsmen.
After bowling well in the first session today, England looked less threatening as the day went on. I knew it would be so – it has been the same in most tests this summer. The attack gets tired, their speeds drop, and the opposition's tail scores runs for fun. This team just doesn't have the firepower we need to beat top sides.
In an extremely interesting interview with Strauss that Sky showed at lunch, our skipper praised our bowlers and claimed there was no better unit in world cricket. To me, this misconception seems to be the root cause of our problems.
On current form, our attack is little above average. Anderson is still a class act, but Swann is carrying a niggling injury, Finn is still learning (and is only effective in short bursts), and as for Broad … well, he's unrecognisable at the moment.  He has bowled one good spell all series. Today he ambled up and bowled a tame 78-82 mph. He just doesn't look himself. What is going on?
However, having said all that I would have taken 262-7 after Smith won the toss and decided to bat. So why am I so frustrated? I suppose it's because I believe this particular side – because of form, politics and strategy – is not a fair reflection of the strength of English cricket. What's more, this is just a three match series. We won't get a chance to put things right. I really don't think South Africa are much better than us. But it looks like they're going to win the series.
Let's just pray that Taylor and Bairstow can make some bloody runs tomorrow. If they do, and England get a decent lead, perhaps scoreboard pressure will help us to bowl South Africa out cheaply in the second innings.
Or am I being too optimistic now? I don't know. You tell me …
James Morgan