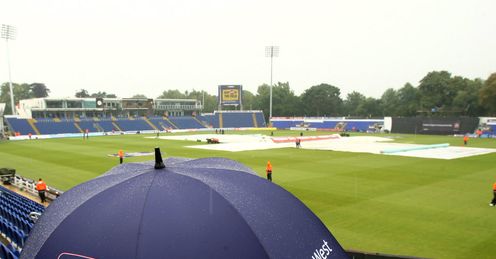 England 169 all out (23.3 overs). New Zealand 159-8 (24 overs)
Back in stereotypical English conditions (or is perpetual rain and damp typically Welsh?), England marched into the semis yesterday.
There was no drama about the pace of the innings – even our top 3 realise you've got to play shots straight away in a 24 over match – and our bowlers rediscovered their teeth; who needs to tamper with the ball when you can move it off the seam for fun?!
The shorter format seemed to liberate our batsmen. Cook in particularly played a gem of an innings. Can you play this way every week please Alastair?
Hopefully the team has realised there's no need to wait for 40 overs before playing a shot in anger. If a batsman is well set, make hay while the sun shines … although obviously there was no sun whatsoever at the SWA-LAKE yesterday. Cardiff, as usual, lived up to its tag as the wettest international ground in the northern hemisphere. How they get so many big matches remains a mystery to many of us.
Although the team's performance yesterday wasn't perfect, we certainly fancy our chances in the semi against South Africa. The biltong munchers haven't set the world on fire yet – indeed, they wouldn't have qualified for the semis at all if it wasn't for Kieron Pollard's brain-melt.
I suppose there are two ways of looking at England's chances. The glass half empty perspective is that our batting still looks weak – we collapsed yet again after establishing a good platform – and therefore we don't stand a chance of winning the Champions Trophy.
The optimistic flipside, however, is that we've come this far without playing well; nobody wants to peak too early, and maybe that perfect batting performance will happen in the semi or final. If that's the case, South Africa and India had better watch out.
It will be interesting to see if Giles tinkers with the side going forward. The most vulnerable players are probably Bresnan and Buttler. The former bowled poorly yesterday, and we'll need Finn's pace to take wickets if our semi is at the Oval.
Buttler meanwhile is proving to be an enigma. I rate the guy highly, and he's got a big future, but the fact remains he averages just 12 in eleven games. Is that really enough to keep out Bairstow? The Yorkshire man is unquestionably a better keeper and a more developed batsman at this point.
In my opinion Jos has a lot of work to do. Remember, he's not just keeping Bairstow out of the side. England are blessed with a number of talented keeper/batsmen. There's also Steve Davies, and some bloke called Matt Prior. Remember him?
James Morgan