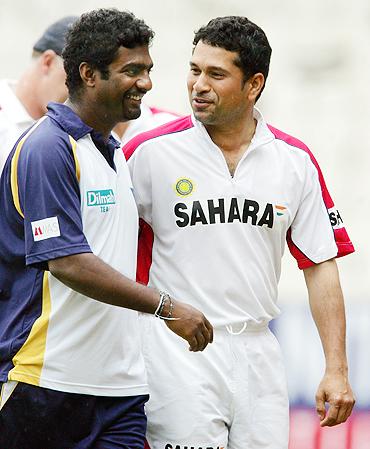 There's probably no such thing as a true neutral in cricket, as all fans have the teams they love to hate. But if real impartiality did exist, the matchup for Saturday's World Cup final would be the dream final. It's Sachin Tendulkar, the best batsman of the modern era, against Muttiah Muralitharan, the best spinner the subcontinent has ever produced. It's enough to get even Duncan Fletcher excited.
Whatever happens, the match will have a fairytale ending. But who do you want to win? As an Englishman, I really don't care. The worst case scenario of an Australia versus South Africa final has been avoided. There will be no nauseating grin on Ricky Ponting or Graeme Smith's face come Saturday evening – and that's the main thing.
As we tipped India to win the tournament (despite the fact that some of their bowlers make Alan Igglesden look positively brilliant) we're backing Dhoni's boys to triumph. Our 'World Cup Preview' claimed that Sri Lanka would do well, but 'if they meet India they'll lose' – and like Richard Illingworth's bowling, we're not for turning.
Sri Lanka's lack of batting depth will be their downfall. Their top four is amazing but we're not so sure about the rest. England were probably only four balls away from beating them. That's four unplayable peaches delivered by James Tredwell. Ahem.
Of course, the result could be decided by the duel between Tendulkar and Murali. It's a fascinating battle: the orthodox and the eye pleasing against the quirky and the controversial. I imagine that most people outside of Sri Lanka will be backing Sachin – simply because Murali's legitimacy splits opinion.
Those of you who have doubts about Muralitharan's action should watch this http://bit.ly/hNLjk0 it's the famous video when he bowls with a brace on his arm. It proves beyond doubt that Murali doesn't bend his arm when he bowls. He gets his spin from an incredibly flexible wrist and shoulder.
There's an optical illusion that Murali chucks because his arm is naturally bent. He can't physically straighten his arms – much like Myleene Klass (bizarre but true). The rules dictate that a delivery isn't a throw unless the arm is straightened in delivery. Murali's arm is bent to start with, so he isn't technically throwing.
Of course, it could be argued that those who wrote the law didn't foresee a Sri Lankan with a unique physiology, and that the spirit of the law implies that bowling with a bent arm should be illegal – the problem for Murali's critics is that, as the law stands, the all time leading wicket taker isn't doing anything wrong.
I believe the more pertinent question is this. Does having a naturally bent arm give Murali an unfair advantage? And if so, is Myleene Klass interested in cricket? If she is, Andy Flower should give her a ring pronto. She could be English cricket's big hope.
As for Tendulkar, what can we say that hasn't been said before? The only controversy that's dogged Sachin is whether he's better than Bradman or not. It's an impossible comparison, of course, but I'd be tempted to say yes. The sheer longevity of his career (177 tests and 452 ODIs) suggests so. And besides, Bradman was an Aussie, so sod him (just kidding Sir Don).
Any young batsman would do well to copy Sachin's technique. He's compact and classical. On the other hand, youngsters should probably stay clear of Murali's action. Since the laws were relaxed to allow bowlers fifteen degrees of flex, cricket has unearthed too many bowlers who get purists hot under the collar. Johan Botha, Saeed Ajmal, Shaun Tait and Bangladesh's Abdur Razzak have all raised eyebrows at one time or another. The controversy isn't good for the game.
What cricket fans need to remember is that every bowler at the World Cup has been examined by the ICC and cleared. That should be the end of the argument. Besides, none of this is Murali's fault. He's made the most of his unique talent and he's brought a lot of joy to cricket fans around the world. Somehow it would be fitting if it's Murali, not Sachin, who lifts the World Cup. Whatever you think of Murali, his career has been an extraordinary story of triumph in the face of adversity.
James Morgan