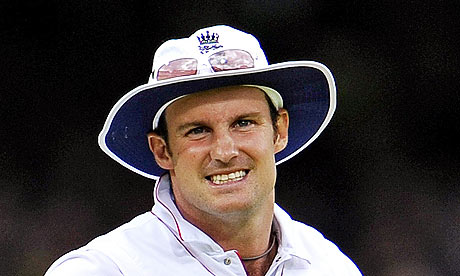 When the players went off for bad light yesterday Sky interviewed Steven Finn, England's Ashes debutant and prime candidate to snap in half at any time – when he took that low caught and bowled in the afternoon session, millions of viewers instinctively lunged for the sticky tape.
It had been a good day for Finn. Despite a shaky start, he bowled with good purpose and picked up two wickets. However, his mood was one of frustration as England were keen to bowl with the new ball in fading light.
Whether it was deliberate or a slip of the tongue, Finn also revealed England's strategy for this Ashes series (or any other series for that matter): 'These are good pitches in Australia so there's no point in chasing wickets. We have to sit in the game, be patient, and wait for the batsman to make an error'.
This statement may seem innocuous, but think about it. Which England bowlers have had the most success down under? Then consider the brand of cricket that Australian teams usually play – not the hesitant fare we witnessed yesterday but the variety Steve Waugh's side used to play. You might even put Finn's words into the context of our decision to pick four bowlers.
Identify the problem? Cricket is a game that rewards those who makes things happen. Darren Gough was brilliant in Australia, whereas the likes of Angus Fraser struggled. The great Aussie teams played ultra positive attacking cricket that bullied opponents. Did they 'sit in the game' and hope the batsmen threw it away?
And what if the batsmen don't surrender their wickets in a fit of absentmindedness? If you're relying on the likes of Michael Hussey to make an error, you're going to be waiting an awful long time.
My beef, of course, is that England are being too conservative. Andrew Strauss and Andy Flower are good leaders, but they're both uber cautious. At 143-5 England were on top yesterday. But our bowlers tired in the evening session and their speeds dropped accordingly. The mindset also became more negative and we failed to take a wicket.
Instead of having a fifth bowler that could get stuck in, Strauss was forced to throw the ball to the embarrassingly benign Paul Collingwood. Meanwhile, the shoulders of the frontline seamers dropped and they went into standby mode – waiting for something to happen. This is a grove, or rut, we fall into all too comfortably.
Did Peter Siddle sit back and conserve energy on the first day? Absolutely not. He grabbed the game by the scruff of the neck and seized the moment.
In 2005 we beat the Aussies by fighting fire with fire. This time our strategy revolves around hoping the Aussies beat themselves. I hope it works, I really do – but I don't like it. The greatest cricketers we've had in the last twenty five years were Ian Botham and Andrew Flintoff, not Chris Tavare and Derek Pringle.
James Morgan