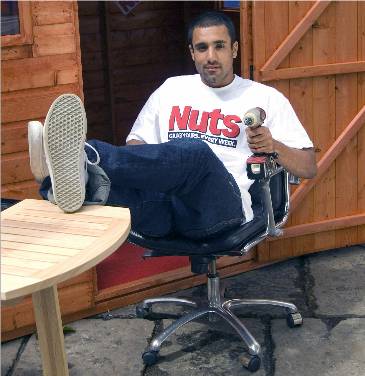 He won't play, will he? Ravi Bopara, the man known for getting out of the kitchen as soon as the temperature edges above zero, has had four opportunities to play his way back into the England team this summer – two innings for the Lions in May, and another two for the Lions against Sri Lanka A this week. On all four occasions he has choked miserably.
However, the England selectors are apparently unconcerned: they've handed Bopara a recall for the test against India at Edgbaston. Confused? You're not the only one. Bopara scored a big hundred for Essex in the county championship the other day, but other than that he has had a miserable season.
Bopara's only virtue, it seems, is that he's 'the next cab off the rank' – a phrase I'm beginning to get annoyed with. What does it actually mean? In this case, it surely means the last player to be dropped for poor form, rather than a capable deputy raring to go who was unlucky to lose his place in the first place (maybe because of an untimely injury).
One suspects that Bopara has been picked purely because he can bowl a bit – which seems more than a tad ridiculous. If the selectors want somebody to score a scratchy twenty but bowl a few overs, they might as well pick Chris Tremlett … which brings me onto my next point.
The interesting thing about the squad for Edgbaston is that it contains five seamers – Finn has also been recalled. Why would England need to include five seamers (Anderson, Broad, Bresnan, Tremlett and Finn) if they weren't at least thinking about a five man attack?
It's all rather curious. My suspicion is that the selectors are throwing India a curve ball, err, I mean a googly (sorry, wrong sport). In recent history, England have chosen five bowlers about as often as Australia have won the Ashes. Yet suddenly, with the injury to Trott and the selection of five seamers in the squad, all options appear to be on the table.
The other possibility, I suppose, is that England have been telling porkies about the fitness of Graeme Swann. Maybe we'll pick four seamers (and no spinner) if Swann doesn't make it; Monty Panesar, remember, is in the dog house after having an illicit net with Sachin Tendulkar a couple of weeks ago.
Our instinct, however, is that England won't change the balance of their side. Therefore we can expect to see Bopara in the final XI at Edgbaston – no matter how vulnerable a five / six of Morgan and Bopara might appear.
Furthermore, if Bopara does play (and he does bat at six) I wonder what Prior will make of the decision? The wicket keeper is, after all, a far more accomplished test batsman than Ravi. Then again, if Prior bats at six then what's the point in having a specialist batsman as low as seven? It would seem rather negative, especially considering the strength of England's lower-order.
Basically, it's impossible to predict what England will do; every option has an illogical aspect to it. Indeed, this article is now going around in circles. Will England pick five bowlers or four? The bottom line is that nobody has a clue – including India. I suppose that's the point really.
James Morgan