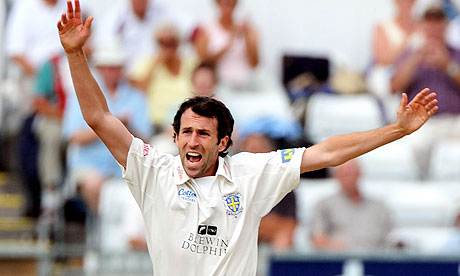 Right then. Two rounds of the county championship have been completed. Lancashire have lost twice and Andrew Strauss has been dismissed for a low score twice. I'll leave you to decide which is the more surprising.
As an England fan first and foremost, my main interest in Championship cricket is seeing which players are on the cusp of test selection. It's even more interesting this year as there's actually a vacancy in the test side to fill; if Patel plays against the Windies in May I'll eat Samit's body weight in jellied eels.
With Paul Collingwood retired, Eoin Morgan playing in the IPL (where presumably he will be sorting out his technical frailties rather than earning bug bucks), and Ravi Bopara apparently not trusted by the selectors, there's a real opportunity for the likes of Notts' James Taylor and Alex Hales to stake a claim for the sixth batsman spot.
There's even the chance for a seam bowling all-rounder to grab a test berth, in case England decide to play five bowlers. It might happen – if only because the selectors aren't yet convinced by any of the specialist batsmen in the running. Consequently, I wouldn't be surprised if someone like Ben Stokes earns a surprise call up if he starts the season brightly. In theory, he's more than capable of batting six or seven and bowling a few overs.
So how have the likely lads performed so far? Well, it's been a miserable start to the season for Hales and Taylor. They've only mustered one score over forty between them. Fortunately however, the other candidates haven't exactly set the world on fire either; although to be fair, it's pretty difficult to set anything on fire in the current weather. Rain ruined quite a few of the matches last week.
The big story so far has been the performance of Graham Bunny Onions against Middlesex. He took ten wickets in the match and dismissed the England captain twice. Not a bad way to get noticed I suppose. He also out-bowled Steven Finn – although the lanky speedster did manage to take a few wickets himself.
It's a real shame for Onions that he's got so much competition for an England place. I can't remember a time when we've had so many quality seam bowlers, but so few quality batsmen knocking on the door.
We're also pretty blessed in the spin department too. Most people know about Swann and Monty, but there's a young guy who plays for Lancashire called Simon Kerrigan. Keep an eye on him. He took seven wickets in a losing cause against Warwickshire. How many English spinners have done that in April – a time when trundlers like Darren Stevens are usually having all the fun?
James Morgan