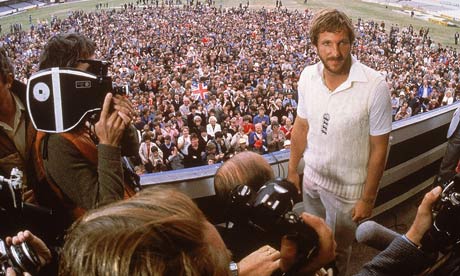 Last night I finally got round to watching 'Botham: The Legend of '81', which had been sitting on my Sky planner for a while. It was well worth it. As someone who first started watching cricket in the 1980s, and who was a junior member at Worcestershire when the club signed Sir Ian, I remember Botham fondly. However, as I was only knee high to Gus Logie back then, I often wonder whether my memories are accurate. Was Beefy really that brilliant?
I suppose it's human nature to remember the great performances – and block out the times when your heroes had their middle stump knocked out. I can tell you categorically that I don't remember Graeme Hick being dismissed for a low score at New Road once, even though I must have attended over a hundred matches. Surely even Hicky wasn't that good!
Misty eyed cricket documentaries usually don't offer the most objective assessments of a player's talents. However, this one did – whether it was intentional or not. Obviously the programme contained the usual footage of Beefy smashing the Aussie bowlers around Headingley, and cricket luminaries like Stephen Fry, Sir Mick Jagger, and Elton John (yes, Sir Elton) reminiscing about Botham's ability to turn a match on its head, but the one thing that stuck with me was how much of Beefy's career was a disappointment.
The documentary focussed on Sir Ian's travails as England captain in great detail. It also described how the start of his career was brilliant, but thereafter his form remained in the doldrums for long periods. For example, did you know that he got a pair in the test immediately before Headingley '81?
And did you know that, much like Andrew Flintoff, Sir Ian spectacularly failed to repeat his Ashes heroics in the return series down under – a tour in which England's great all-rounder was regularly accused of being unprofessional due to his off-field antics? Again the similarities to Freddy in 2005 and 2006/07 are uncanny.
During Flintoff's career, Freddy was compared to Ian Botham ad nauseum. I hated these comparisons at the time, but now I think they have some merit. Like Beefy, Freddy was more consistent as a bowler than a batsman.
Of course there was always excitement and expectation when Botham strode to the wicket – something worth watching inevitably happened – but as Stephen Fry eloquently reminded viewers in the documentary, Beefy was dismissed for a low score a lot more than he made substantial runs. Sound familiar, Flintoff fans?
After the Ashes in '81, Beefy had the world at his feet. He was at the peak of his powers and had just been named sports personality of the year. However, as his friend David Gower reminded us, Botham largely failed in his quest to become the world's greatest all-rounder.
Instead, he rested on his laurels and failed to practice hard enough – instead believing that if he 'went out there and swung that bat' the magic would somehow happen. Invariably it didn't.
Because of all this, Botham never really fulfilled his potential. A career test average of 33.5 with the bat, and 28.4 with the ball was tidy enough, but hardly awe inspiring. Incidentally, Beefy's nemesis, Imran Khan, averaged 37.7 with the bat and 22.8 with the ball. The statistics say it all really.
Fortunately for his Beefiness, the English public care little about stats – and I doubt Sir Ian does either. We love our sportsmen for their charisma and what they represent. Botham was an entertainer from an ordinary background who took on cricket's elite and wasn't afraid to poke authority in the eye. That's why we love him.
The fact that he was essentially an inconsistent cricketer, capable of so much more, doesn't bother us England fans. Botham appeared in seven Ashes series and emerged victorious five times – thus cementing his legacy as the patron saint of Aussie-bashers.
When you throw in Beefy's incredible charity work – which the documentary also described in heart-warming fashion – the portrait of an amiable man with an irrepressible spirit is complete. There is no doubt that Botham deserved his knighthood.
But what about Botham the cricketer – is it even possible to be objective? Sir Ian was capable of brilliance on a good day, and his big personality, so free of the stuffiness that characterised some of his contemporaries, more than made up for the bad ones.
Consequently, 'Botham: The Legend of '81' was a far more appropriate title that the BBC realised. Botham was a world class player capable of brilliance, but like legends going back to medieval times, truth and myth have become entwined. Beefy was good, but was he really an all time great?
James Morgan