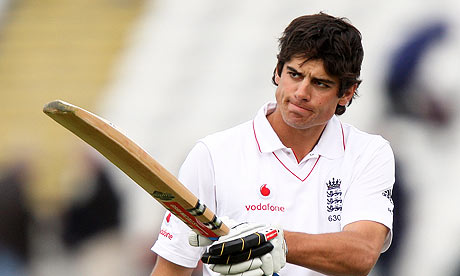 India 224. England 456/3 at stumps
It's not supposed to be this easy. For us long suffering England cricket supporters, the goal of becoming the world's number one team was always a pipe dream. There were always far superior teams in the way – Australia, South Africa, the West Indies, Pakistan, India and, when we lost to New Zealand at home in 1991, the Kiwis too. If we're being honest, Zimbabwe also used to give us a run for our money – not that we liked to admit it, eh Bumble.
Fortunately, things have steadily improved over the last decade. When we won the Ashes in 2005, it was like reaching the summit of Kangchenjunga. When we beat the Aussies down under this winter, it was like conquering K2. However, the long-term goal of becoming world number one remained elusive. Being the world's best was our Everest – and it was supposed to be the next big mountain to climb.
Yet tonight, as England are poised to scale the heights that no England team has managed for donkeys' years, it's all a bit of an anti-climax. Basically it just seems too easy.
In 2005 we emerged victorious after a tumultuous battle against the old enemy. There were ups and downs along the way – including a heavy defeat in the first test at Lord's. And even though this winter's success was comfortable in the end, there was still a demoralising reverse at Perth.
Great achievements, like becoming world number one, are supposed to be earned. But India have handed over their title on a platter. Their bowling yesterday wasn't just buffet – it was silver service. Meanwhile, their body language suggested that they'd given up.
I actually felt a little bit cheated by India's ineptitude on day two. Their feeble efforts seemed to suggest that the prize wasn't even worth fighting for. It was like watching a petulant child give up because it gives him half an excuse: 'you can have your victory – we can't be bothered. If we actually tried, we'd win – honest'.
Maybe I'm being harsh on India. Perhaps they've simply got nothing left to give after being pulverised at Lord's and Trent Bridge. Or maybe I'm feeling the emptiness that Alexander the Great felt when he had no more lands to conquer – although a victory against India in the subcontinent would be nice.
Unfortunately however, I suspect I'm feeling  flat because yesterday's carnage confirmed that test cricket isn't what it used to be. Matches against Australia and South Africa are still intense, but I wonder whether the other nations really care? India seem more interested in the IPL and ODIs.
Consequently, although England are undoubtedly a fine team now, it's almost impossible to gauge how good we really are. The competition is appalling. Flower and Strauss run a very professional ship, and in terms of preparation we're light years ahead of where we were in the 1990s, but are we really that much better talent wise?
The likes of Thorpe, Lamb and Stewart would have feasted on India's bowling yesterday just as eagerly as Cook, Strauss and Morgan. Indeed, I firmly believe that the former three were far better players; their problem was that they had to content with Ambrose, Walsh, Donald, Pollock, Wasim, Waqar, McGrath and Warne. Cook's 182 not out was a fabulous effort, but Kumar, Sreesanth and Mishra aren't remotely in the same class. England's vice-captain has probably scored tougher runs in country cricket.
If we do indeed become the world's number one team over the weekend (it seems inevitable now) we're bound to perk up and celebrate the moment. But today we're in the mood for quiet contemplation. My worry is this: are we about to become the world's best test team at the precise moment that test cricket goes into terminal decline? How utterly typical that would be.
James Morgan